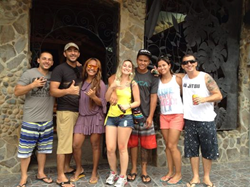 We love seeing new businesses flourish.
Quepos, Costa Rica (PRWEB) August 08, 2014
Quepos is one of Costa Rica's popular seaside destinations. Travelers are drawn by the proximity to the Manuel Antonio National Park, and a variety of eateries seek to accommodate them. Among the newest is Ticos Bar and Restaurant, a partnership formed by the culinary team of Costa Rican native, Luis Pérez, and Irish immigrant, Paul Redmond. With a fifteen-year history of collaboration in various hotels, the duo launched their new operation this past May.
The town of Quepos is also known for being one of the major sport fishing spots in all of the Central Pacific Coast of Costa Rica. With this amount of traffic tourism generates combined with a growing local population, a place that could please both groups was an unaddressed market, and Ticos seeks to fill tables by filling the demand of both groups.
Pleasing the palate of a public with such diverse ethnic backgrounds, tastes, and experiences can be a great challenge. Thankfully, Pérez and Redmond gained invaluable insight into this dynamic audience during their stint at Tulemar Resort, the number one rated resort for families in Central America according to TripAdvisor users.
Luis Pérez, former Tulemar maitre d' and Ticos owner, says, "The experiences that we learned at Tulemar by working at a restaurant with such a broad and internationally mixed clientele, gave us the foundation and knowledge to start a place like Ticos."
Dave Houck, Tulemar spokesperson, applauds and supports the decision the two chefs made by stating "we love seeing new business flourish, it adds more variety to this already diversified eclectic town." He continues by saying "the beauty of this place lies in the fact that it is welcoming and accommodating for both locals and tourists."
Perhaps this is the result of the fact that the essence of the restaurant starts with a mixed background as the two owner are Costa Rican and Irish, respectively. The synergy this relationship creates imbues the venture with a key ingredient for success in a dynamic marketplace.