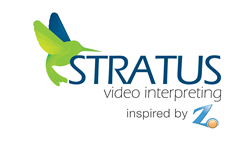 The diversity of the U.S. population demands a solution, and it's Stratus' mission to break down language barriers for every resident.
Clearwater, FL (PRWEB) August 11, 2014
The U.S. has served as a home to over 2.5 million refugees since 1975, accepting more immigrants than all nine other refugee-friendly countries combined (1)—and the majority of these new residents speak little to no English, making language barriers more common than ever before and necessitating interpreters for a successful cultural assimilation for refugees, especially within the healthcare industry. As a result, the Joint Commission issued a compliance ruling in 2011 and subsequently overtook the monitoring of hospitals nationwide to ensure that they remain in compliance with the law and provide language services to patients who require them. But despite the law, many healthcare systems have reported difficulties with remaining in compliance, and are, therefore, risking major fines and lawsuits, according to officials at Video Remote Interpreting (VRI) company Stratus Video Interpreting. In an effort to assist and protect healthcare systems with meeting compliance standards and increasing equal language access for all, Stratus offers healthcare systems a solution: VRI interpreting simplifies communication and cuts costs without sacrificing service.
Nearly 100% of hospitals receive visits from Limited English Proficiency (LEP) patients daily (2), and while the problems in treating these patients comprise several factors—such as a lack of interpreter availability—cost is the main culprit: the average U.S. hospital spends nearly $1 million a year on language services. And although language services are readily available, they are often underutilized because they are difficult to access, leading providers to sometimes communicate with LEP patients using methods such as hand signals and informal interpreters such as the patients' own family members (3)—a method which Stratus previously reported has been to proven lead to adverse consequences.
But in addition to the inherent costs, the issue is further exacerbated for hospitals which fail to even provide such language services, thereby offering a potential segue to malpractice lawsuits and fines imposed by governing agencies for noncompliance, per Stratus CEO Sean Belanger. However, the challenges faced by healthcare facilities with regard to LEP patients can be eliminated by combining the benefits of face-to-face interpreting with the convenience of on-demand interpreting, per Belanger, who maintains that Stratus' efforts, in conjunction with the Joint Commissions oversight, are part of a larger initiative to increase care quality through better communication and cultural competence by identifying and addressing patient communications needs.
"With the correct technology in place, healthcare operations will become more streamlined as a nation," said Belanger. "The diversity of the U.S. population demands a solution, and it's Stratus' mission to break down language barriers for every resident."
Stratus officials say that VRI technology reduces costs by as much as 80%, presenting a much more economical and efficient alternative or adjunct to either face-to-face or over-the-phone (OPI) interpreting. The foundation of VRI is that it combines high quality face-to-face interpreting with the affordability of on-demand interpreting, allowing its users to get interpreters in front of patients 24/7.
Stratus' interpreting services complement existing language services and interpreters with the ability to be loaded onto any PC, Mac, smartphone or tablet—the application not only cuts interpreting costs by negating the need for an interpreter to travel to a particular location, but also increases access to language services and ensures that every citizen, regardless of the language spoken, has equal access to healthcare.
In its effort to assist hospitals in remaining in compliance while also reducing malpractice suits due to interpreting errors, Stratus upholds the standards of the Health Insurance Portability and Accountability Act (HIPAA) for protecting sensitive patient data by ensuring that all essential security measures are in place.
Stratus President, David Fetterolf, says that interpreting today is a $2 billion dollar industry where VRI is the new technology which will rapidly replace $1 billion of the market from face-to-face and OPI interpreting.
For more information about Stratus and its services, visit http://www.stratusvideo.com.
About Stratus Video Interpreting:
Stratus Video Interpreting provides on-demand interpreter services by using technology to connect clients with interpreters in over 175 spoken and signed languages in less than 30 seconds. Stratus' cloud-based video solution delivers an array of unique features to virtually any Internet-enabled PC, Mac, smartphone or tablet. Stratus clients use the technology to connect with their own staff interpreters, as well as with Stratus interpreters, who have years of healthcare and courtroom experience and hold multiple certifications. With Stratus, state-of-the-art video remote interpreting is made available with virtually no capital investment. Stratus averages 65,000 video calls a day, up from 40,000 in mid-2013. Stratus Video is the sister company of The Z® (CSDVRS, LLC, dba ZVRS), which was established in 2006 and developed by and for deaf and hard of hearing individuals, setting the industry standard as the nation's premier Video Relay Service Provider and the first VRS Provider to receive a 5-Year certification from the FCC. For more information, visit http://www.stratusvideo.com.
1. Singer, Audrey, and Jill H. Wilson. "Refugee Resettlement in Metropolitan America." Migrationpolicy.org. Migration Policy Institute, 01 Mar. 2007. Web. 01 July 2014.
2. Orlovsky, Christina. "Language Barriers on the Rise in American Hospitals." Nursezone.com. N.p., n.d. Web. 18 Mar. 2014. nursezone.com/nursing-news-events/more-news/Language-Barriers-on-the-Rise-in-American-Hospitals_27682.aspx.
3. "The Affordable Care Act: Say 'Hola' to Your Patients." N.p., 24 Sept. 2013. Web. 9 May 2014. prlog.org/12215123-the-affordable-care-act-say-hola-to-your-patients.html.