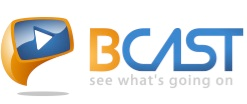 (PRWEB) August 11, 2014
BCAST, a social media broadcasting platform set to transform how individuals access live events and activities, today announced a partnership with Hollywood, California based Revolver Picture Company, a genre label from casting director Kelly Wagner and former Dimension/Screen Gems executive Nick Phillips.
BCAST, a startup that enables viewers to create channels and broadcast their own live streaming videos at any time, is set to launch a new social media personal broadcasting platform later this summer that uniquely provides a point-of-view (POV) broadcasting capability distributable to and from mobile devices, the Internet and TV.
Revolver Picture Company is a fast-rising label specializing in horror films, including the recently released, award winning "Beneath." The strategic partnership with Revolver Picture Company will extend the BCAST brand to the entertainment and film community, with the objective of delivering POV broadcasting of behind-the-scenes film production and broadcasting experiences that enable studios, actors, and other celebrities to connect with their fans in a way never before possible.
"Imagine if Star Wars fans could watch a BCAST on their smartphone of POV broadcasting snippets direct from the set of the new movie, or independent studios seeking to build their brand used BCAST to open the film process to fans of their genre," said Mike Hodge, CEO of BCAST. "We believe Revolver Picture Company shares our passion to enrich the fan experience, and helps us further execute on our plan to bring BCAST to sports, celebrities, politics, medicine and other venues."
The partnership with Revolver Picture Company follows the recent announcement by BCAST that it has engaged leading sports marketing and management company Wasserman Media Group to assist in business development, relationship building, and introducing the platform to influencers across professional sports, including athletes, teams and leagues.
About Bcast.com
Formerly known as Fullcircle Geosocial Network, BCAST is debuting this summer its new social media video broadcasting platform providing keyword searchable and location-relevant live streaming video broadcasting capability to/from mobile devices and wearable computing devices, and the web. The BCAST platform provides a seamless way to broadcast live streams and incorporate them into work, life or social media experiences. For additional information, visit http://www.bcast.com.