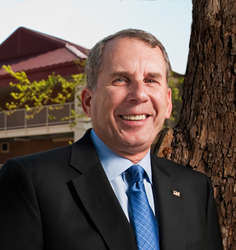 Evans, GA (PRWEB) August 08, 2014
Larry Miller recently announced that Colonel, U.S. Army (Retired) Thom E. Tuckey, former Fort Gordon Garrison Commander, has graciously agreed to serve as the keynote speaker for the CSRA Home Connections Networking Breakfast and Success Seminar at Be My Guest Catering & Events in Evans on the morning of Aug. 13.
"We are indeed both fortunate and honored to welcome a leader of Thom's knowledge, experience and expertise to address our Preferred Providers, agents and staff," reports Miller, CEO of CSRA Home Connections and CENTURY 21 Larry Miller Realty owner/broker.
Tuckey currently serves as the Executive Director for the CSRA Alliance for Fort Gordon, an organization which serves as a liaison between the CSRA community and Fort Gordon.
"It makes a difference in communities when you have organizations like the CSRA Home Connections Program, whose people contribute so much in so many ways to serve others. Their leadership in Operation Hand-Warmer, and support of the Easter Seals 'Ornament of Hope' campaign and other fund-raising partnerships with United Way of the CSRA, Golden Harvest Food Bank and Goodwill Industries, are simply wonderful examples of commitment to the community," said Tuckey. "I'm looking forward to spending some quality time with old friends and meet some new ones on Wednesday morning, August 13th."
Tuckey plans to share some Fort Gordon history, personal recollections of his time on post, and good news about the economic and social impact of Fort Gordon's tremendous growth, already in progress, on the entire area. (http://www.FortGordonAlliance.com)
Fort Gordon, GRU and Plant Vogtle All Expanding Simultaneously
Economic development authorities in the core counties of the Central Savannah River Area – Richmond, Columbia, McDuffie and Burke in Georgia and Aiken County in South Carolina – are unabashedly excited about the huge, exponential growth driven by major expansions at Fort Gordon (NSA and Cyber Command), the construction of two new nuclear reactors at Plant Vogtle (Georgia Power), and significant growth and expansion of Georgia Regent University, including its world-renowned medical college. Over the next few years, this "perfect storm" is projected to bring population hyper-growth, an expanded tax base and an influx of consumer dollars never before experienced in the area.
About Thom Tuckey
Colonel (Retired) Thom E. Tuckey received his commission as a United States Army Signal Corps officer upon graduation from Ohio University in 1972. Over nearly 30 years, he served in a multitude of assignments, including two tours in Germany, a tour in Tampa and two tours at Fort Bragg, North Carolina, during which he participated in Operation Just Cause in Panama and Operation Desert Shield/Desert Storm in Southwest Asia. Colonel Tuckey also served as Professor of Military Science at Carnegie-Mellon University, and was the Fort Gordon Garrison Commander from 1996 to 1999. His final Army assignment was as the Chief Information Officer (CIO) for the United States Army Training and Doctrine Command at Fort Monroe, Virginia.
Colonel Tuckey retired from military service on Feb. 1, 2002 and now serves as the Executive Director for the CSRA Alliance for Fort Gordon. Colonel Tuckey's military and civilian education includes the Army War College, a Bachelor of Science Degree in Math from Ohio University, and a Master's Degree in Public Administration from Shippensburg University. He is married to the former Kathy Manko and has two children, Travis and Jessica, and one grandson, Tyler.
About CSRA HOME CONNECTIONS®
"We took the basic premise of Century 21's Local Alliance Program and enhanced it exponentially with an aggressive multimedia marketing campaign," explains Larry Miller, who has been operating his successful Century 21 franchise for over 28 years. "Our program makes it possible for local businesses to economically and effectively market their products and services to thousands of homeowners, home-buyers, home-sellers and home-builders throughout the CSRA."
The unique marketing program features a half-hour television program shown at 10 a.m. every Sunday on The CW Augusta, and 19 times a week on WOW (formerly Knology) cable channel 38. "CSRA Home Showcase" offers 30-second and one-minute "TV tours" of dozens of homes, land and commercial properties listed by CENTURY 21 Larry Miller Realty agents. It also provides 15-second and half-minute commercial positions for CSRA Home Connections sponsors.
Other media include:

A substantial monthly radio campaign on a network of local radio stations
TV commercials on local broadcast stations (such as FOX 54) and on both
Comcast and WOW cable networks

"We're offering tons of networking opportunities for our program participants, with monthly breakfast meetings, quarterly success seminars, and other group events," reports Director of Communications Dawn Human. "Furthermore, all of our agents are promoting our Preferred Providers to their clients, and our sponsors will cross-promote their products and services throughout the year."
Director of Membership Development Caroline Thomae Bradshaw adds: "Plus, in an effort to make sure we're promoting the very best businesses available, all potential sponsors must apply for membership in the program, pass our Executive Committee's review process, and agree to regular monitoring and customer service standards."
Interested companies, professional practices, or individuals may contact Bradshaw by phone at (706) 860-0000, or via e-mail: CBradshaw(at)C21LarryMiller(dot)com.