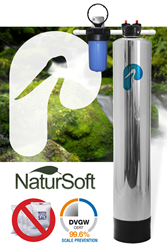 People who choose premium, choose Pelican!
Deland, Florida (PRWEB) August 11, 2014
Pelican Water supports legislative efforts in California to relieve the state's chronic drought problem through new water conservation strategies. As part of its mission to create environmentally-friendly products, Pelican is dedicated to curtailing the use of wasteful salt-based water softening systems.
Concerned about the destructive drought that has plagued California for more than 40 years, many communities are trying to reduce water usage. Some towns have initiated major PR campaigns to boost public awareness about the water shortage. Yet statistics show that residential water use actually has risen in the last five years.
The drought is so dire that the State Water Resources Control Board recently took the measure of declaring the most egregious acts of water waste to be a criminal offense. Fines will be levied against citizens who engage in wasteful outdoor watering. This move is a step forward, but there is still a silent water waster in California's midst: the salt-based water softener.
Salt-Based Water Waste
Salt-based softeners have long been the go-to answer to fight 'hard' water, but the issue with these systems is that they routinely waste water. On average, a salt-based system wastes 150 gallons each week. That amounts to 7,800 gallons per year, per system. That equals about five, 10-minute showers per day, wasted and down the drain. And in an area with particularly hard water, a salt-based system can waste an astounding 23,400 gallons per year.
This puts a real strain on the public water supply, causing water costs to soar. The water system already is stretched dangerously thin in California, the most populous state in the US.
Salt-based systems have other negative environmental costs as well. The discharged waste water leaches into streams, lakes, and soil, and the salt content can damage plants and wildlife. This is why many communities have passed ordinances to ban these systems while offering rebates to encourage citizens to switch to salt-free water softeners.
Save Water - Salt Free
Unlike a regular system, a salt-free system can neutralize the calcium and magnesium minerals in 'hard' water without creating waste or dumping salt brine into our fresh water supply. Also, these new softeners do not require electricity or weekly salt replacements that add costs over time.
As the market leader in salt-free water softening systems, Pelican Water applauds state efforts to conserve water in California. Switching to salt-free water softeners is one step Californians can take to protect the present and future water supply. Preserving freshwater sources is vital to the prosperity of one of the most beautiful states in the nation.
To learn more about Pelican Water's leading salt-free water softeners, visit their website.
About Pelican Water Systems
PelicanWater.com is the official, factory-direct retail website for Pelican Water Systems, providing professional knowledge and leading technologies in salt-free water softener systems, as well as whole house water filtration systems. Pelican Water products use cutting edge technology and enable customers to go green by eliminating wasteful and harmful salt brine discharge that is polluting our scarce fresh water supply.
For over two decades, Pelican Water has been the global market leader in salt-free water softening systems, and our mission remains to be the world's premier water solutions company through the development of premium, innovative, and environmentally responsible products and our unsurpassed commitment to integrity, passion, and exceptional customer service.