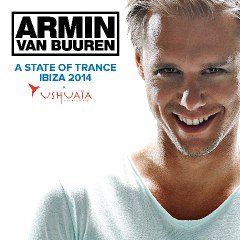 Armin van Buuren's 'A State of Trance' radio show is broadcast to over 25 million listeners each week in more than 70 countries.
New York, NY (PRWEB) August 08, 2014
In an ode to his summer residency on the Balearic island of Ibiza, Spain, Armin van Buuren will bring the magical feeling of Ibiza to the world with a brand-new mix compilation due September 9th, 2014. The album is the culmination of his weekly residency each Thursday at the Ushuaïa Beach Hotel. This double-disc compilation is a collection of the biggest tracks from his sets this summer in Ibiza. The album also includes the brand new track, "Hystereo," from Armin himself.
The compilation also features Armin's remix of Idina Menzel's "Let It Go" (from Disney's 'Frozen'), and smash tunes from trance greats, Omnia, Mark Sixma, Paul Oakenfold, Aly & Fila, Gaia, Andrew Rayel, Cosmic Gate, and many more of the world's top producers, in addition to original Armin van Buuren mash-ups.
Armin has previously held residencies in Ibiza for many years and was long a mainstay of Privilege, Amnesia, Space, and other superclubs on the island. Now he has his sights set on the moment's hottest beach hotel and club, the world-famous Ushuaïa.
Since it began in 2001, Armin van Buuren's 'A State of Trance' radio show has shattered expectations and boundaries. Broadcast to over 25 million listeners each week, the show currently airs in over 70 countries on terrestrial and satellite radio.
iTunes pre-order link: https://itunes.apple.com/us/album/state-trance-at-ushuaia-ibiza/id906609134
Listen to Armin's A State of Trance playlist on Spotify: http://bit.ly/1qZ6H5L.
CD 1
01 Armin van Buuren - Hystereo (Intro Mix)
02 David Gravell - Timebomb
03 Omnia - Tomorrow People
04 Mark Sixma - Adagio For Strings
05 Alex M.O.R.P.H. feat. Natalie Gioia - The Reason
06 Armin van Buuren feat. Laura Jansen - Sound Of The Drums (Bobina Remix)
07 Armin van Buuren feat. Lauren Evans - Alone (Thomas Newson Remix)
08 Paul Oakenfold - Toca Me
09 Faruk Sabanci - Alexandria
10 Heatbeat - Bloody Moon
11 Cosmic Gate & Ørjan Nilsen - Fair Game
12 KhoMha - Asylum
13 Andy Moor - Fade To Light (Joseph Areas 'Dirty Rock' Remix)
14 Andrew Rayel feat. Jonathan Mendelsohn - One In A Million*
15 Mark Sixma - Shadow (W&W Edit)*
16 Alexander Popov - Eternal Flame
17 Yves de Lacroix feat. Marell - Destroyves
18 Heatbeat - Aerys*
19 Cosmic Gate & Eric Lumiere - Falling Back*
20 Simon Patterson feat. Sarah Howells - Dissolve
21 Armin van Buuren & Andrew Rayel - EIFORYA (Talla 2XLC 140 Remix)*
22 Cosmic Gate - Exploration Of Space *
*Armin van Buuren Mash Up
CD 2
01 Armin van Buuren - Ping Pong (Kryder & Tom Staar Remix)
02 Andrew Bayer - The District
03 Dan Thompson - Propaganda
04 Maarten de Jong - Red And White
05 MaRLo and Fisherman & Hawkins - Forces
06 Jorn van Deynhoven - New Horizons (A State Of Trance 650 Anthem) (Mark Sixma Remix)
07 David Gravell - The Last Of Us
08 Arisen Flame - Explorer
09 Idina Menzel - Let It Go (Armin van Buuren Remix)
10 Andrew Rayel feat. Sylvia Tosun - There Are No Words
11 Ayu - Terminal (Dub Mix)
12 Markus Schulz - Remember This (Mark Sherry Remix)
13 Philippe El Sisi & Abstract Vision feat. Jilliana Danise - This Time (Wach Remix)
14 Mhammed El Alami & illitheas - Horizon
15 Aly & Fila with SkyPatrol feat. Sue McLaren - Running
16 John O'Callaghan feat. Jennifer Rene - Games (Ian Standerwick Remix)
17 Aly & Fila meets Roger Shah feat. Sylvia Tosun - Eye 2 Eye [FSOE 350 Anthem]
18 Sneijder & Bryan Kearney - Next Level
19 Gaia - Empire Of Hearts (Johann Stone Remix)
For more information, contact EMILY TAN Media Relations (U.S./North America) +1(917) 318-3758, EmilyEmilyTan(at)aol(dot)com, and visit http://www.ARMINvanbuuren.com.