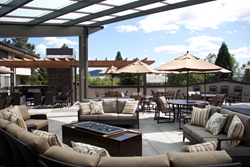 "Carman Oaks has been one of Oregon's premier retirement communities since 1985," said Fee Stubblefield, President and Founder of The Springs Living. "We invested more than $7 million to make it relevant in today's environment."
Portland, OR (PRWEB) August 11, 2014
The Springs Living, a locally owned and operated senior housing company, unveils the newly renovated property in the Lake Oswego neighborhood. The project, with oversight from Todd Construction, combines the comfort and convenience of a resort with the friendliness of an old-fashioned neighborhood, turning senior living into a resort-like experience.
"Carman Oaks has been one of the premier retirement communities in the state since 1985, but we wanted it to be relevant to Lake Oswego residents today," says President and Founder of The Springs Living, Fee Stubblefield. "That's why we invested more than $7 million dollars to create this environment."
Nestled at the base of Mountain Park, the community provides the perfect setting for activities and easy living. The newly renovated property includes a swimming pool and spa, outdoor gardens featuring rose, herb and vegetable patches, an on-site pub, wellness and fitness areas and a theater. The Springs Living purchased the property in the fall of 2012 and promptly set to work remodeling the community to reflect the high quality, yet comfortable, aesthetic that encompasses all of The Springs Living's properties.
"The Springs at Carman Oaks is designed for a variety of residents, including Independent Living, ideal for active seniors ready to let go of the daily home maintenance chores so they can focus on enjoying activities and other freedoms," says Director of Operations, Jay Leo. "Assisted Living provides additional support so our seniors may stay as independent as possible while receiving assistance with their daily activities. Footsteps ® Memory Care serves residents living with Alzheimer's disease or other forms of dementia in a caring, secure environment."
Highlights of the remodel include:

Renovated "restaurant-style" dining area, including new ceiling and custom lighting.
"Fancho's Pub" featuring a full bar and custom wines.
A new recreation and fitness area, including an indoor swimming pool and spa.
Wellness center featuring spa and therapy rooms.
A new deck with covered seating, fireplace, grilling area and easy access to and from the dining area.
New reception and office area, including a center fireplace.
A theater with 110-inch screen and projector, 27 theater chairs and accessible stadium seating.
The Springs Living, based in McMinnville, currently operates 12 communities; 10 across Oregon and two in Montana. Stubblefield started the business out of his desire to take care of his grandmother, and the business has held onto that small, local flavor even as expansion takes place.
The Springs at Carman Oaks is located at 3800 Carman Drive, Lake Oswego, OR 97025.
###
About The Springs Living
The Springs Living is a locally owned senior housing company headquartered in McMinnville, Oregon. Founded in 1996, The Springs Living has grown steadily, and now has a dozen complexes that offer various levels of care for seniors. Ten are in Oregon, and two are in Montana. For more information about The Springs Living visit, http://www.TheSpringsLiving.com.