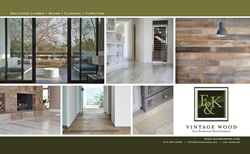 Los Angeles, CA (PRWEB) August 08, 2014
E&K Vintage Wood (E&K LTD, LLC), a leading provider of reclaimed wood products preserved from the deconstruction of historic buildings and landmarks throughout the world, announced today that they have moved their showroom to a new location. The address of the new showroom is 5036 Venice Blvd., Los Angeles, CA, 90019. All other contact information, including phone numbers, remain the same.
"As E&K Vintage Wood continues to grow, we are excited to move into a larger showroom that allows us to better serve the needs of our customers," said Eric Freed, owner of E&K Vintage Wood.
About E&K:
Founded in 2010, E&K is a privately held, rapidly growing business that has become the leading provider of reclaimed lumber, siding, furniture, and flooring. E&K offers customers an aesthetically superior alternative to new growth wood, as well as an antique story to accompany the product. Furthermore, using reclaimed wood is a "green" design option that helps preserve the world's forests while providing a higher quality product that is often more durable.
E&K is an FSC-certified company with an inventory that includes over 50 species of wood from unique sources. Some of those unique sources include: Azobe wood from the 1908 African railway, barn siding from a North Carolina tobacco farm (circa 1840), Coney Island, NY boardwalk material, and beautiful redwood from enormous cabernet sauvignon wine tanks used in the 1930's.
A few of E & K's clients include: Google, Nike, ABCTV, HGTV, Marriott Hotels, AG Goldshmidt, The W Hotel Eco Residences, Starbucks, Juicy Couture New York, Eskandar, Urban Outfitters, and Zero+Cornejo.
The company is headquartered in Los Angeles, CA. For press inquiries, please call (310) 306-6900 or email info(at)eandkwood(dot)com. For more information, visit http://www.eandkwood.com.