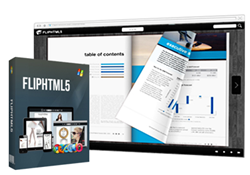 (PRWEB) August 11, 2014
The much anticipated latest version of the HTML5 Magazine Publishing Software, version 2.0.0, has been lately released to the market by the FLIP HTML5 team. This digital publishing platform is a much more sophisticated version of the previous version with increased performance.
Due to the high demand from the satisfied users for a high performance version of the HTML5 Magazine Publishing Software, the FLIP HTML5 team decided to develop the software taking to consideration the comments left by the users about the previous version. Thus, the latest version boasts of an improved, mobile friendly and bug free software experience.
The version 2.0.0 of the HTML5 Magazine Publishing Software has attracted a large number of users since the day it was released to the market and the number of daily downloads of this user friendly software increase daily, exponentially. One of the webmasters – Marcus Johnson added his view on this HTML5 Magazine publishing Software as. "I am always looking for a better solution to present my digital magazine to the readers of my website. The HTML5 flipping solution helps me create digital HTML5 page flip magazines for all platforms easily. "
This version is extremely useful for mobile readers. Apart from the features of the previous version, in this version the focus has been set mainly on developing and improving small details so that mobile readers could get the maximum use out of the software. This helps to create and publish high quality digital magazines, even when the user is on the move. With a few touches and swipes any reader with an iPad, iPhone, iOS device, Android device or any other mobile tablet could read the entire magazine without any issue. Besides, a cool HTML5 magazine APP maker is integrated with the Flip HTML5 software. Hence this version also expands the reader base which is very beneficial to the publisher.
As usual, the users are presented with a highly secured and privacy protected software experience combined with a very supportive and efficient customer care service. Users are presented with a free trial of the software and when recognized the true potential of it, they could purchase the full package for a surprisingly low rate.
To learn more about this product, visit: http://fliphtml5.com/.