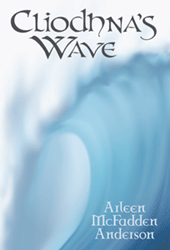 Des and Danny meet unexpectedly years later and the sparks begin to fly.
HARBORCREEK, Pa. (PRWEB) August 08, 2014
Cliodhna, named after the goddess of love and beauty described in Irish myth, tested her parents' patience until she received a protective golden lab she promptly named Towser. Danny's situation is entirely different from that of Desmond Marshall II, the other protagonist in this new novel, named after his entrepreneur grandfather. The two will find their lives intertwined, drawn into unavoidable destiny.
"Cliodhna's Wave" features Danny, who feels compelled by her love of animals to pursue a career in veterinary medicine. On the opposite side of the coin is Des, a disturbed young man raised by an abusive father to take the helm of the family business. They meet thanks to a bet between their two fathers about who plays better golf. The results, which surprise one father, set the stage for a relationship that will be unforgettable. Des and Danny meet unexpectedly years later and the sparks begin to fly. Although their relationship is sometimes rocky, their chemistry is undeniable.
But Des' jealousy and mental instability begin to make their presence felt, and eventually the situation becomes intolerable. Both move on in their lives, taking dramatically different directions, but Des can't shake the feeling that the two are meant to be together, even as his descent into unreality continues. Little does Danny know that her ex-fiance hasn't given up on their relationship. Lives are forever changed as their final destiny takes shape.
Author Arleen McFadden Anderson, a lifelong resident of Erie County, Pa., is semi-retired after a career in various offices. She and her husband, Philip, live right next to the bank of Sevenmile Creek in a feedmill built in the mid-1800s and converted to a home in the 1960s. She began writing stories when she turned 55. Two charities will benefit from the sales of each book: The Anna Shelter (Association for Needy and Neglected Animals) in Erie, Pa., and the National Network to End Domestic Violence in Washington, D.C. Each will receive 10 percent of the book's profits.
----------
For additional information, please visit http://www.ArleenAnderson.net.
Cliodhna's Wave
Arleen McFadden Anderson
Dog Ear Publishing
ISBN: 978-1-4575-2756-2 560 pages $24.95 US
Available at Ingram, Amazon.com, Barnes & Noble and fine bookstores everywhere.
About Dog Ear Publishing, LLC
Dog Ear Publishing offers completely customized self-publishing services for independent authors. We provide cost-effective, fast, and highly profitable services to publish and distribute independently published books. Our book publishing and distribution services reach worldwide. Dog Ear authors retain all rights and complete creative control throughout the entire self-publishing process. Self-publishing services are available globally at http://www.dogearpublishing.net
and from our offices in Indianapolis.
Dog Ear Publishing – self-publishing that actually makes sense.