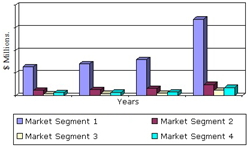 Global Nanofiltration Membranes Market to Reach $445.1 Million in 2019
Wellesley, Mass., (PRWEB) August 08, 2014
BCC Research (http://www.bccresearch.com) reveals in its new report, GLOBAL MARKETS AND TECHNOLOGIES FOR NANOFILTRATION, the global market for nanofiltration membranes is expected to grow to $445.1 million by 2019, with a five-year compound annual growth rate (CAGR) of 15.6%. The water and wastewater treatment segment dominates the overall market with 74.6% market share.
Nanofiltration is a pressure-driven, membrane-based separation technology utilizing membranes that are capable of retaining nanoscale particles and molecules. With three main types of nanofiltration membranes — polymeric, inorganic (e.g., ceramic and carbon), and hybrid (or organic/inorganic) — this technology is finding increasing application across a broad range of industries, including water and wastewater treatment, food and beverage, chemical and petrochemical, pharmaceutical and biomedical, metalworking, agriculture, textiles, and solid waste management.
Membranes for water and wastewater treatment represent by far the largest share of the market. This segment alone is expected to reach $338 million in 2019 and register a healthy CAGR of 16.1%. Revenues within this category are primarily driven by sales of nanofiltration membranes for water softening, desalination, and wastewater treatment.
Although generating lower revenues, the pharmaceutical and biomedical category, is the fastest moving segment in the overall market and is expected to grow to $22.7 million by 2019, moving at a significant 19.5% CAGR. In this sector, nanofiltration is used mainly for plasma purification; fractionation of proteins, virus removal from plasma products, preparation of desalted and concentrated antibiotics, immobilization of cells and enzymes in biosynthesis, and filtration of DNA, RNA and endotoxins.
"Membrane-based separation technologies have been receiving increasing interest in recent years," says BCC Research nanotechnology analyst Margareth Gagliardi. "Not only do they represent more cost-effective, low maintenance, easy-to-operate and energy saving processes compared to other popular separation methods, they're also creating new opportunities in the separation and recycling of chemical compounds that could not be previously processed by other means."
The increased market penetration of these products is attributed to a number of factors; including a rising demand for potable water and reduced freshwater sources, environmental restrictions on industrial and municipal wastewater discharges, and lower operating costs compared to, for example, reverse osmosis.
GLOBAL MARKETS AND TECHNOLOGIES FOR NANOFILTRATION provides an overview of the global market for nanofiltration, a pressure-driven, membrane-based separation process whose characteristics fall between those of ultrafiltration and reverse osmosis. It includes analyses of global market trends, with data from 2012 and 2013, estimates for 2014, and projections of CAGRs through 2019.
Editors and reporters who wish to speak with the analyst should contact Steven Cumming at steven.cumming(at)bccresearch(dot)com.
About BCC Research
BCC Research publishes market research reports that make organizations worldwide more profitable with intelligence that drives smart business decisions. These reports cover today's major industrial and technology sectors, including emerging markets. For more than 40 years, we have helped customers identify new market opportunities with accurate and reliable data and insight, including market sizing, forecasting, industry overviews, and identification of significant trends and key competitors. We partner with analysts who are experts in specific areas of industry and technology, providing unbiased measurements and assessments of global markets. Our clients include the top companies in industries around the world as well as universities, business schools, start-ups, consulting firms and investment companies. BCC Research is a unit of Eli Research LLC. Visit our website at http://www.bccresearch.com. Contact us: (+1) 781-489-7301 (U.S. Eastern Time), or E-mail information(at)bccresearch(dot)com.
Data and analysis extracted from this press release must be accompanied by a statement identifying BCC Research LLC, 49-2 Walnut Park, Wellesley, MA 02481, Telephone: (+1) 781-489-7301; E-mail: editor(at)bccresearch(dot)com as the source and publisher. Thank you.