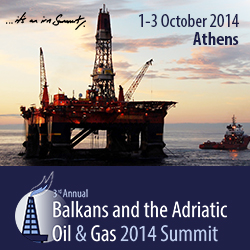 It's an IRN Summit!
(PRWEB UK) 11 August 2014
The third edition of Balkans and the Adriatic Oil & Gas Summit has already received worldwide support this year, indicating the interest in the oil concessions in the region for the upcoming years.
Gold sponsors of this year's Summit include; NRC, Bankers Petroleum and EPE Group. Bankers Petroleum, operating Europe's largest onshore field, the Patos-Marinza in Albania; and NRC (National Response Corporation) are widely recognised for their successful emergency response solutions in the USA, Middle East, Far East, Africa, and Europe. EPE (Environmental Protection Engineering) is one of the largest companies that offer complete services for the protection of the industrial (through Polyeco S.A. which is an affiliated company) and marine environment in the Mediterranean and beyond, with projects funded by the United Nations and the World Bank in Greece, Cyprus, Lebanon, Egypt, Mauritius, Kosovo, Kazakhstan and Albania.
Other major hospitality sponsors of the Balkans Oil & Gas Summit 2014 include Spectrum and Weatherford, hosts of the coffee breaks; as well as Aggreko sponsor of the Drinks Reception that will take place at the terrace overseeing the city of Athens at the Grande Bretagne hotel. ATP Instone, a major provider of travel solutions to the energy industry, is also an exhibitor sponsor at the summit.
Spectrum holds the 2D Multi-Client seismic data for both onshore and offshore Croatia as well as additional 3D data for offshore prospects. This data is essential for anyone wishing to participate in the offshore round closing in November 2014 and the onshore round closing in February 2015.
Weatherford has a strong presence in the Balkans, working with the major operators in Romania, Bulgaria, Albania, Greece, Italy, Serbia, Croatia, Slovenia, Bosnia and Herzegovina helping them to achieve better production.
Aggreko is the company that assisted OMV Petrom to secure oil production in a mature field reducing operating costs. World's leading provider of temporary power and temperature control solutions, the company has also provided services for the oil and gas industry in Bulgaria, emergency power after the floods in Slovenia, power rental for the Greek public power company, and power for events in Croatia.
The Ministry of Economy of Montenegro and the Ministry of Energy and Industry of Albania have already provided IRN with their Official Endorsement for the Summit, and amongst the speakers that will provide exclusive updates, will be senior Governmental Officials from the related Ministries of Greece, Croatia, Montenegro, Bosnia & Herzegovina (Republic of Srpska), Albania and Montenegro.
The non-governmental industry associations; Albania Energy Association, the Romanian Petroleum Club and the Romanian Energy Center as well as the Montenegrin Foreign Investors Council are also official supporters of the initiative.
More information about the Summit is available on the website http://www.balkanssummit.com.