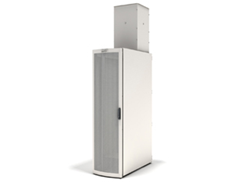 IsoFlo conveniently solves the issues associated with air-side economization while offering additional benefits to legacy and multi-tenant facilities.
Jessup, MD (PRWEB) August 08, 2014
Tate® Airflow, the global brand of next generation airflow management products and services, is introducing IsoFlo™ a fully contained cabinet. The IsoFlo cabinet offers a more efficient, cost effective and flexible data center design when compared to aisle containment systems.
Air-side economization is one of the most efficient means to cool a data center. However, to take full advantage of these designs human occupancy within the data center is not practical. IsoFlo, separates the IT airflow from the human occupied space so that a comfortable work environment can be maintained even when excessively warm inlet and exhaust temperatures are being realized.
By isolating the IT cooling from the rest of the facility IsoFlo aids in the implementation of fully economized designs. Following ASHRAE 2011 thermal guidelines for allowable inlet temperatures, IsoFlo can allow for nearly 100% free cooling for the entire year in almost any location on the planet. Adding automated airflow controls to supply air to the cabinet can further reduce energy costs and provide the most efficient use of the data center IT cooling capacity.
"IsoFlo conveniently solves the issues associated with air-side economization while offering additional benefits to legacy and multi-tenant facilities," said Daniel Kennedy, Sr. Sales Engineer, Tate Inc.
IsoFlo solves the challenge of cooling non-uniform rack layouts often found in multi-tenant or multi-user facilities. Isolating both the supply and return airflow within the cabinet allows for complete flexibility in equipment layout, without the need to maintain hot aisle/cold aisle alignments.
Cabinet level containment is also more cost effective during the initial build when compared to the cost of individual racks and aisle level containment. "The cost of separating the air streams with-in the rack is more cost effective to build than a full scale cold or hot aisle containment system," said Kennedy.
Five Benefits of IsoFlo Cabinets:
1. Efficient - Cabinet level containment allows for increased inlet air temperatures and completely eliminates bypass airflow
2. Operationally Cost Effective - The ability to incrementally increase the equipment inlet air temperature or use passive airflow supply allows IsoFlo to provide a very cost effective data center cooling platform.
3. Capital Cost Effective - IsoFlo cabinets are more cost effective than cabinets with aisle containment, and offer mechanical equipment savings in new build.
4. Flexible - There is no requirement for a hot aisle/cold layout. The isolated airflow paths and standard module sizing of the chimney and airflow panel allow the cabinet to be deployed in any new or existing pod or cage configuration.
5. Monitoring and Control - Automatic airflow controls allow for simple integration with the building management system and DCIM can provide real time information to the data center manager.
For more information about IsoFlo or Tate Airflow, please visit http://www.tateairflow.com or call (410) 799-4200.
About Tate Airflow™
Tate Airflow is a global brand of next generation airflow management solutions for data centers. Our innovative products efficiently manage the airflow in the data center by eliminating by-pass air to maximize capacity and reduce costs. Tate Airflow offers products for any data center design from fully economized enterprise user to the segmented collocation provider. Our wide range of products and services include directional airflow panels, controls, containment, cabinets, air sealing accessories, and optimization auditing services work together to maximize data center performance.