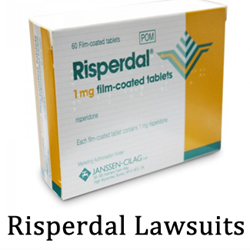 Contact Wright & Schutle LLC today for your free Risperdal gynecomastia lawsuit case evaluation by visiting www.yourlegalhelp.com or by calling 1-800-399-0795
Columbus, OH (PRWEB) August 09, 2014
Risperdal lawsuits currently pending litigation in the Philadelphia Court of Common Pleas in Pennsylvania have grown to 662 Risperdal lawsuit claims filed against the makers of the antipsychotic drug, notes Wright & Schulte LLC. According to the court documents, the 662 Risperdal lawsuits were filed on behalf of males who allege that they took the antipsychotic drug Risperdal and developed gynecomastia, also known as abnormal male breast growth. Wright & Schulte LLC notes, Risperdal lawsuit claims are also being filed in other courts, including the U.S. District Court, Northern District of California where a complaint alleges a 27-year-old man developed breasts after using Risperdal and underwent a double mastectomy. (3:14-cv-02739) . (In Re: Pradaxa (Dabigatran Etexilate) Products Liability Litigation – MDL No. 2385)
Wright & Schulte continues to speak with families of young men and adult males who believe they have developed gynecomastia, or enlargement of male breasts, due to taking the antipsychotic drug Risperdal or Risperidone. For a free legal consultation contact the harmful drug attorneys at Wright & Schulte LLC by calling 1-800-399-0795 or visit http://www.yourlegalhelp.com for more information on this ongoing litigation.
Wright and Schulte also notes, that the U.S. Department of Justice (DOJ) reported that in 2013 that Johnson & Johnson's subsidiary Janssen Pharmaceuticals Inc. plead guilty to misbranding the antipsychotic drug Risperdal and agreed to pay a $400 million criminal fine. This came after an investigation by the DOJ and the FDA for marketing Risperdal without FDA-approval for use in children with behavior challenges, despite Risperdal's known health risks to children and adolescents. According to the DOJ, the FDA repeatedly advised the company that promoting Risperdal's use in children was evidence of a violation of law. Risperdal was not approved for use in children for any purpose until late 2006, according to the Justice Department. Janssen Pharmaceuticals Inc. was also investigated for marketing the Risperdal drug for use in elderly dementia patients that had not been approved by the FDA. As a result of the investigation, the justice department charged Janssen Pharmaceuticals, Inc., with introducing a misbranded drug into interstate commerce. Janssen Pharmaceuticals, Inc. also paid $1.25 billion to settle a separate civil case regarding Risperdal.
[justice.gov/opa/pr/2013/November/13-ag-1170.html, November 4, 2013]
[fda.gov/NewsEvents/Newsroom/PressAnnouncements/ucm373499.htm, November 4, 2013]
Risperdal is an atypical antipsychotic drug approved by the U.S. Food & Drug Administration (FDA) to treat schizophrenia, bipolar disorder, and irritability in autistic children and adolescents. Recent studies have cited concerns over an increase in children being prescribed antipsychotic drugs, including Risperdal. A report released in June by the Australian government's Drug Utilization Subcommittee estimated 12,680 Australian children less than 19 years old were taking an antipsychotic drug as of October 31, 2012. According to the report, risperidone, sold in the U.S. under the name "risperdal," was the most common drug taken by children 14 years old and under. In Australia, risperidone is used to treat children and adolescents with behavioral disorders associated with autism, schizophrenia, and bipolar disorder. A study published in the April 2014 issue of Health Day News reviewed data from more than 260,000 children enrolled in one state's Medicaid program in 2006. According to the report, nearly one-third of children in foster care who had been diagnosed with Attention Deficit Hyperactivity Disorder (ADHD) were prescribed antipsychotic drugs, including Abilify, Risperdal and Seroquel, even though the drugs have not been approved by the FDA to treat children with ADHD.
[pbs.gov.au/industry/listing/participants/public-release-docs/antipsychotics/antipsychotics-children-
adolescents.pdf]
[philly.com/philly/health/topics/HealthDay686601_20140410_Too_Many_Foster_Kids_ With_ADHD_Treated_With_Antipsychotic_Drugs__Study.html, HealthDay News, April 10, 2014]
Court records indicated that a Risperdal lawsuit was filed June 12 on behalf of a San Francisco, California man who began taking Risperdal in 2008 when he was 20 years old and continued until 2013. Wright & Schulte learned through court records that the gynecomastia lawsuit purports the San Francisco man developed enlarged breasts, which caused him severe psychological trauma and led him to undergo a double mastectomy in 2011, when he was 24. The lawsuit further purports that the man continued taking Risperdal after the surgery because he did not know that Risperdal allegedly caused the gynecomastia and other side-effects including pain and swelling in his chest, pain in his testicles, testicular shrinkage, loss of sex drive, gastrointestinal problems, anxiety and impaired motor skills. The Risperdal lawsuit accused Johnson & Johnson and Janssen Pharmaceuticals Inc. of misrepresenting the drug as a safe and effective treatment for schizophrenia and bipolar mania even though they knew the drug caused serious side-effects including gynecomastia. The Risperal lawsuit also accused the defendants of failing to adequately warn doctors and consumers about the risk of taking the drug.
About Wright & Schulte LLC
Wright & Schulte LLC, an experienced personal injury firm, is dedicated to the belief that America's legal system should work for the people. Every day, the attorneys of Wright & Schulte LLC stand up for the rights of people who have been injured or wronged and fight tirelessly to ensure that even the world's most powerful corporations take responsibility for their actions. If you're looking for a law firm that will guarantee the aggressive and personal representation you deserve, please do not hesitate to contact Wright & Schulte LLC today. Free Risperdal lawsuit case evaluations are available through yourlegalhelp.com or by calling 1-800-399-0795.
Contact:
Wright & Schulte LLC
812 East National Road
Vandalia, Ohio 45377
1-800-399-0795
http://www.yourlegalhelp.com
Like us on Facebook
Follow us on Twitter
Join us on Google+