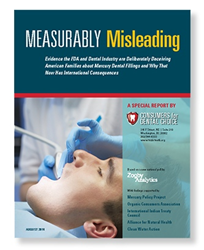 'Our data show a measurably disturbing lack of knowledge about dental mercury by consumers. And terms like "silver" and "amalgam" are key reasons why.' -- Charlie Brown, Consumers for Dental Choice
Washington, DC (PRWEB) August 09, 2014
What: Charlie Brown, of Consumers for Dental Choice, along with Rebecca Wittman and Chad T. Bohnert of Zogby Analytics and Michael Bender of the Mercury Policy Project will present a special online media briefing detailing the results of a new eye-opening national poll that strongly suggests American dental consumers are being measurably misled by the use of terms like "silver" and "amalgam" to describe what are actually mercury-based dental fillings.
The report and full poll data will be released by Consumers for Dental Choice during a special online media briefing on Tuesday. The report, entitled, "Measurably Misleading" will be available for download following the briefing.
The FDA has jurisdiction over dental fillings, which are categorized as a medical device. Currently, the FDA does not apply its rules on consumer labeling to dental fillings. Those rules, according to the FDA's web site, define "mislabeling" and "misbranding" as any regulated product labeled in an "incorrect", "inadequate" or "incomplete" way. By those standards, Consumers for Dental Choice believes terms like "silver" and "amalgam" -- terms used and accepted by the FDA - are a key reason behind consumer confusion about what's in their dental fillings.
The evidence from a poll of 1,508 Americans by Zogby Analytics makes a strong case Americans are confused. As the report to be released on Tuesday will show: 57 percent of Americans do not know "amalgam" is "mainly mercury" and 23 percent actually believe the primary ingredient is silver.
Zogby's data strongly indicate that decades of misleading terminology like "silver" and "amalgam" have effectively denied Americans the right to know that these dental filling are, in reality, made primarily from mercury.
"Our data will show a measurably disturbing lack of knowledge about dental mercury by consumers. And, just as critically, our findings reveal the sense of betrayal Americans feel about being misled", Brown explained.
Why Now: In November 2013 the Obama Administration signed the international Minamata Convention on Mercury -- an agreement that commits our country to work with the global community to "scale down" and "phase out" mercury, including dental mercury, use worldwide.
Despite the U.S. commitment to the international community through the Minamata Convention to scale down mercury, the FDA's policy supports greater use of mercury dental fillings.
According to a rule published in the August 4, 2009 Federal Register: "any change away from use of dental amalgam is likely to result in negative public health outcomes" and "any change towards use of dental amalgam is likely to result in positive public health outcomes" …. " This policy, Consumers for Dental Choice believes, potentially could clearly put America out of compliance with key provisions of the Minamata Convention on Mercury.
When: Tuesday, August 12, 2014, 1:00 – 1:30 p.m. EDT
How to Participate: Media representatives may contact Brian Morris at: bmorris(at)morriscommunications(dot)com to receive a link to the online presentation.
Special note: Media willing to observe the August 12, 2014 embargo for reporting on the report and its findings may secure advance copies and pre-briefing interviews with Mr. Brown and/or a Zogby representative.
Contact: Brian Morris, Morris Communications, 614/226-3292 or bmorris(at)morriscommunications(dot)com