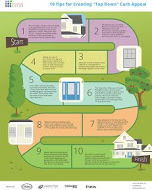 Maumee, Ohio (PRWEB) August 11, 2014
In honor of National Curb Appeal Month in August, several leading building product companies have come together to create two Curb Appeal Infographics available free to the media. Fypon, DaVinci Roofscapes, Therma-Tru and Simonton Windows are making available "Curb Appeal ROI" and "10 Tips for Adding Curb Appeal" infographics free of charge.
National Curb Appeal Month is dedicated to helping homeowners focus on ways to add value and design appeal to their home's exterior. During August, Fypon, the creator of National Curb Appeal Month, offers daily curb appeal tips on its Facebook and Twitter pages along with detailed curb appeal information and color advice from national color expert Kate Smith of Sensational Color on the Fypon website.
"Realtors tell us that potential home buyers make a 'street decision' in less than 12 seconds on whether or not to view a home that's for sale," says Niki Decker, senior manager of product and marketing for Fypon. "That's a very short time to make a large impression and it all relies on the curb appeal of the house.
"Different curb appeal elements, such as well-maintained shrubbery, decorative millwork and trim, colorful plants and an appealing front entryway can have a fast, positive impact on home buyers. Even if your home is not for sale, curb appeal is important in setting a welcoming tone for your family and visitors."
ROI on Curb Appeal
According to the 2014 Cost Versus Value Study conducted by Remodeling magazine*, many products added to the home have a high return-on-investment at the time of a home sale. Adding energy-efficient vinyl windows as a mid-range project to a home can have a cost recoup value of 78.7 percent while the addition of vinyl siding can have 78.2 percent recoup rate.
The same study reports that the replacement of an easy-care fiberglass entry door can have 70.8 percent of the cost recouped, while a new roof on the home has a 67.6 percent cost recoup. The study "What Today's Home Buyers Really Want" from the National Association of Home Builders** reports that the three most wanted outdoor features consumers desire for their home exteriors are lighting, a patio and a front porch.
"Whether you're adding a new component to the home's exterior or 'sprucing up' existing elements, color plays a major role in creating curb appeal," says Kate Smith, president of Sensational Color. "Adding color to the home exterior should be done in a 'top-down' approach so there's a unified flow that creates an overall pleasing impression."
Smith, who has authored the e-books "FRESH Home Exterior Colors" and "FRESH Color Schemes for Your Home Exterior," recommends that homeowners add "pops of color" to key home exterior elements.
"The front entry door, shutters and trim are the ideal locations for major color additions that complement the overall color palette of the home," says Smith. "Imagine a polymer slate roof in a blend of castle gray flowing down to red brick siding. How do you enhance the home's look? By adding a marine blue painted fiberglass front door along with low-maintenance shutters of charcoal gray, trim pieces and louvers painted in soft white."
For high resolution versions of the Curb Appeal Infographics, contact Kathy Ziprik at 828-890-8065 or kziprik(at)aol(dot)com.
*The 2014 Remodeling Cost vs. Value study results can be found at http://www.remodeling.hw.net/cost-vs-value/2014/. The Farnsworth Group, an online market research company, programmed and hosted the 2014 Remodeling Cost vs. Value web-based survey. REALTOR® Magazine
**View information on What Today's Home Buyers Really Want at http://www.nahb.org/news_details.aspx?newsID=15794&fromGSA=1.