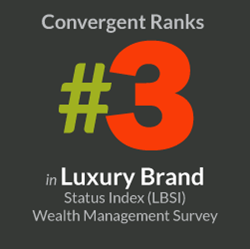 We believe that living well is the ultimate goal of investing well.
NEW YORK, NY (PRWEB) August 18, 2014
The Luxury Institute has announced Convergent Wealth Advisors as third out of 39 leading national wealth management companies and private wealth managers in their 2014 LBSI Wealth Management Survey. The survey asked affluent respondents nationwide to evaluate each firm based on such factors as service quality, exclusivity, social status, and the ability to deliver special client experiences.
Convergent's expanding presence in the wealth management space comes at a time where investors demand more personalized attention. According to Luxury Institute CEO Milton Pedraza, affluent individuals and families place expertise, trustworthiness, and generosity high on their list of attributes needed in order to build strong client relationships. Convergent embraces these attributes as part of its core values and corporate vision that underpin each client relationship.
"We believe that living well is the ultimate goal of investing well," says Convergent President and COO Douglas Wolford. "The modern notion of luxury is defined by a sense of ease, confidence, and authenticity. Wealthy families want an experience tailored to their individual needs and goals—and one that allows them to enjoy more of the benefits and avoid many of the burdens of wealth."
Dave Zier, CEO, adds, "People want to be associated with a luxury brand. Convergent strives to provide our clients with an experience that money alone can't buy—an experience in living well. Being highly ranked by the Luxury Institute only reinforces our commitment to offering what we believe is the finest in wealth management."
About Convergent Wealth Advisors
Convergent Wealth Advisors is a recognized industry leader in wealth management, managing over $8 billion in assets (as of March 31, 2014). Convergent provides investment consulting services and customized wealth management solutions to ultra-high net worth individuals and family offices with investable assets of $10 million and more. Independence by Convergent™ is a division of Convergent focused on servicing clients with $1 million and more in investable assets.
City National Bank is backed by $29.7 billion in total assets (as of December 31, 2013), and provides banking, investment and trust services through 77 offices, including 16 full-service regional centers in Southern California, the San Francisco Bay Area, Nevada, New York City, Nashville, and Atlanta. The company and its investment affiliates manage or administer $66.4 billion in client investment assets as of March 31, 2014. City National is the 25th largest American commercial bank by asset size.
Convergent has offices in Washington, DC, Los Angeles, New York, and Portland, OR.
Media Contact: Douglas Wolford | 301.284.1112 | Doug.Wolford@ConvergentWealth.com
Ranking criteria is based on Luxury Institute's Luxury Brand Status Index (LBSI). Investors w/ an average net worth of $15 million and annual average income of $800,000 completed an independent survey in 2014 and shared opinions of 39 leading firms in the wealth management business. LBSI scores (1-10) comprise respondents' evaluations of each firm's product quality, exclusivity, social status and ability to deliver special client experiences.
Non-deposit investment products are not FDIC insured, are not deposits or other obligations of City National Bank, are not guaranteed by City National Bank and involve investment risks, including the possible loss of principal.
Convergent is a majority-owned subsidiary of Convergent Capital Management, which is a subsidiary of City National Corporation (NYSE:CYN), the parent company of City National Bank.