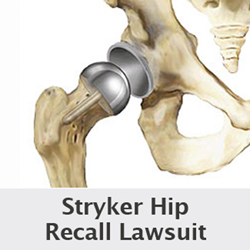 Columbus, OH (PRWEB) August 10, 2014
Wright & Schulte LLC has filed six Stryker Hip Replacement lawsuits on behalf of men and women who allege that they have suffered serious side-effects, including metallosis (metal poisoning), pain, pseudotumors and fluid build-up around the hip prosthesis that require revision surgery as a result of having a Stryker modular hip stems implant. According to the Stryker complaints, four plaintiffs allege that they have already undergone surgery to have their hip stems removed, one plaintiff is scheduled to have surgery in September, and surgery has not yet been scheduled for the sixth plaintiff. The six Stryker complaints join 1,772 Stryker hip lawsuits currently moving forward in U.S. District Court, District of Minnesota. (In Re: Stryker Rejuvenate and ABG II Hip Implant Products Liability Litigation, No. 2441) U.S. District Judge Donovan W. Frank, who is presiding over the MDL, issued an order in March scheduling three to five Stryker bellwether trials for the summer of 2015.
[mnd.uscourts.gov/MDL-Stryker/Orders/2014/2014-0314-PTO12-13md2441.pdf, March 14, 2014
Wright & Schulte LLC is currently represent numerous clients from around the country in Stryker hip lawsuits. These six additional hip replacement lawsuits were filed on behalf of three plaintiffs who reside in Utah and the others in North Carolina, Oregon and Wisconsin. The six Stryker hip lawsuits purport that Stryker failed to adequately design and manufacture the Rejuvenate and ABG II modular hip stems, both of which were recalled by the company in 2012. The complaints further purport that Stryker did not adequately test the artificial hip stems to make sure that they would not fret, corrode and deteriorate which leads to severe metal toxicity in hip implant recipients. The lawsuits further contend that Stryker's representation that the hip stems would not fret or corrode were false and misleading to physicians and consumers. (In Re: Stryker Rejuvenate and ABG II Hip Implant Products Liability Litigation, No. 2441)
Stryker recalled the Rejuvenate and ABG II hip stems in June 2012 after receiving reports of corrosion and fretting at the modular neck-junction. Stryker issued a report at the time of the recall stating that neck components of Rejuvenate and ABG II are made of chromium and cobalt and the stems are coated with titanium. According to Stryker, the two parts wear against each other and generate metallic debris which is released into the recipient's bloodstream or tissue. The metallic debris can cause patients to experience adverse local tissue reactions, swelling, persistent pain and other complications. Stryker advised artificial hip implant recipients to undergo blood tests for metal ions and imaging screening, even if they do not have problems with their hips.
[stryker.com/en-us/products/Orthopaedics/modularneckstems/index.htm]
[literature.ortho.stryker.com/files/REJUV_COM_23.pdf]
Court documents indicate that Stryker cases pending in state courts across the country are consolidated under MDL 2441 for pretrial proceedings. According to a status report filed in the Minnesota federal court on July 14, there are 2,108 Stryker cases pending in New Jersey, 77 cases filed in Florida and approximately 34 cases filed in state courts in California, Illinois, Indiana, Kansas, Massachusetts, Michigan, New York, and Oregon. (In Re: Stryker Rejuvenate and ABG II Hip Implant Products Liability Litigation, No. 2441) Judge Brian R. Martinotti, who is presiding over the Stryker litigation in New Jersey's Bergen County Superior Court, has scheduled bellwether trials on June 15, 2015 and July 15, 2015. The Rejuvenate and ABG II hip stem complaints in the New Jersey court allege that the hip prosthesis was defective and failed prematurely and as a result, hip implant recipients experienced chronic pain, metal poisoning, tissue necrosis and other health complications. (In Re Stryker Rejuvenate Hip Stem and the ABG II Modular Hip Stem Litigation, No. 296) Bellwether trials are a sampling of cases with similar issues that give the parties involved an idea of what could possibly happen in future trials. The trials also move the litigation along in a timely matter.
About Wright & Schulte LLC
Wright & Schulte LLC, an experienced personal injury firm, is dedicated to the belief that America's legal system should work for the people. Every day, the attorneys of Wright Schulte LLC stand up for the rights of people who have been injured or wronged, and fight tirelessly to ensure that even the world's most powerful corporations take responsibility for their actions. If you're looking for a law firm that will guarantee the aggressive and personal representation you deserve, please do not hesitate to contact Wright & Schulte LLC today. Free Stryker Rejuvenate and ABG II Modular-Neck Hip Replacement Stems lawsuits case evaluations are available through yourlegalhelp.com, or call 1-800-399-0795.
Contact:
Wright & Schulte LLC
812 East National Road
Vandalia, Ohio 45377
1-800-399-0795
http://www.yourlegalhelp.com
Like us on Facebook
Follow us on Twitter
Join us on Google+