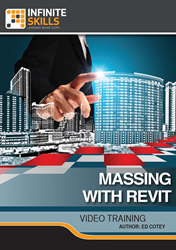 Learn Massing With Revit at your own speed.
(PRWEB) August 08, 2014
Software training firm Infinite Skills Inc. last week introduced its "Massing With Revit Tutorial," an advanced course focused on Revit's tools for conceptualizing a building's overall shape in the preliminary stages of architectural design.
Revit allows architects and engineers to design 3D models of buildings and their components, creating plans for all the stages of a building's lifecycle, from concept and design, to construction and eventual demolition.
Revit's massing tools function like a digital version of studio clay, allowing architects to experiment with the overall shape, perform various analytics, and begin adding elements without having to start from scratch.
Infinite Skills' Massing With Revit Tutorial provides a focused training guide designed for this stage of building design, allowing experienced Revit users to master this unique set of tools after only a few concise lessons.
Massing With Revit Tutorial - Streaming
Course author Ed Cotey is an interior designer of over 30 years, focusing on residential and commercial interiors. In addition to his design practice, he owns Autospec, a CAD consulting company for manufacturers. Having worked with AutoCAD for more than 20 years, and with Revit for the last eight years, Cotey also teaches introductory and advanced concepts in Revit, AutoCAD, and SketchUp at the college level.
Cotey begins here with setting up a massing project, demonstrating how to place elements, work with different views, and apply materials to a mass.
The next chapter goes in-depth with the tools available for creating and working with conceptual masses, as Cotey explains how to create in-place mass elements, work with the family editor to create a mass form, and work with the essential tools for creating shapes.
He then demonstrates editing tools including how to use the 3D control, edit edges, profiles, and faces, create a surface component, and more.
The course closes with chapter on how to create a building from a mass, demonstrating how to add elements such as floors, walls, a roof, and apply analytical tools.
"In the beginning stages of a project, the designer might not know beforehand the overall shape a building should take," Cotey explains.
"With massing, you can explore design ideas by using shapes to conceptualize the model. Massing is a useful set of tools that help you visualize design options in the early stages of development, while helping you make design decisions with analytical tools."
Free demo videos and a full list of course contents can be found on the Massing With Revit training page of the Infinite Skills website: http://www.infiniteskills.com/training/massing-with-revit.html.
Infinite Skills offers its Massing With Revit Training Video either as a direct download from the company website at a retail price of $24.95, or through its subscription streaming service, available at a rate of $25 per month. Though the compatibility of programs varies, all Infinite Skills titles and formats are compatible with both Mac and Windows operating systems, and shipping is available around the globe. Additionally, Infinite Skills tutorials are supported by project files which correspond to examples in the videos.
About Infinite Skills Inc.
A leader in the field of software training, Infinite Skills designs its courses on a task-oriented model, teaching complex skills by providing hands-on examples and guiding users as they carry out essential functions. Infinite Skills offers a wide range of software titles available as DVDs, digital downloads, and in iPad editions. Infinite Skills now offers a subscription service, providing access to all its training content for a monthly fee, keeping with company's aim of delivering professional training to customers anywhere they want to learn.