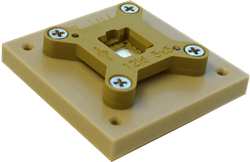 This latest version provides a 1000HV on the Vickers scale
Seabrook, NH USA (PRWEB) August 11, 2014
Ardent Concepts, the leader in innovative high performance connector and socket technology for next generation chip development and test, has released new versions of the production proven Scrub-R socket. The latest Scrub-R high volume ATE test socket demonstrates significant improvement in lowering DC resistance values over repeated cycling with no sacrifice in signal integrity.
"Many of our customers have very tight tolerances for measurable and repeatable resistance in their test plans" says Sergio Diaz, Engineering Manager at Ardent. "We have been studying high hardness materials for many years now, and this latest version of Scrub-R provides a 1000HV on the Vickers scale, which had vastly improved the high volume ATE test performance of our flagship chipscale test socket product line."
Customers using the latest version of Scrub-R measured bulk resistance of 40 mOhms over many thousands of test cycles on products with NiPalAu and Matte Tin pads. The distribution of the resistance value after repeated cycling remains very tight with very few outliers. This performance vastly improves 1st pass yields for many devices such as oscillators, gyroscopes, switches, power amplifiers, A/D Converters, MEMS devices and a host of other small leadless and leadframe packaged ICs.
Scrub-R sockets are compatible with most pick and place, gravity fed and turret style handlers with short lead times and outstanding factory support. Available in versions down to .4mm pitch with AC performance to 24 GHz, Scrub-R sockets are an excellent alternative to legacy pogo pin or 'roll' type sockets with a simple geometry and easy to replace contact sets.