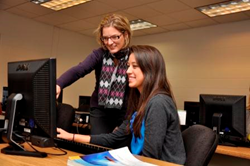 'Allegany College of Maryland is proud to be named an EARN Maryland grantee and to be the lead partner in the IT Center of Excellence: Preparing Rural Western Maryland for the Future project,' said ACM's president, Dr. Cynthia S. Bambara.
Cumberland, MD (PRWEB) August 10, 2014
Leonard Howie, secretary of the Maryland Department of Labor, Licensing and Regulation (DLLR), has announced that Allegany County's Information Technology Strategic Industry Partnership has received a 2014 EARN (Employment Advancement Right Now) Maryland Implementation Grant.
EARN Maryland, managed by DLLR, is a first‐of‐its‐kind state skills-training and economic development initiative that is business-led, flexible and collaborative. EARN Maryland is designed to ensure that Maryland employers have the talent they need to compete and grow while providing targeted education and skills training to Maryland workers.
The state awarded 28 partnerships that exhibited the best ability to meet industry‐identified workforce needs and to train Marylanders in the skills employers demand.
The local Strategic Industry Partnership (SIP), which includes many key area stakeholders, plans to establish an IT Center of Excellence that will prepare a strong workforce to satisfy a growing number of jobs foreseen in information technology.
The goal of this 18-member group, representing IT, education, government and economic development, is to put Allegany County at the center of a technology-ready region that strengthens existing IT employers and attracts new ones.
"Allegany College of Maryland is proud to be named an EARN Maryland grantee and to be the lead partner in the IT Center of Excellence: Preparing Rural Western Maryland for the Future project," said ACM's president, Dr. Cynthia S. Bambara.
"We look forward to collaborating with local businesses and economic and workforce leaders through our Information Technology Strategic Industry Partnership."
She added, "Funding through this partnership will help us to identify, reach and support technology innovators and, ultimately, to put our area's workforce to work and spur economic development in our region."
The economic development community, which has endorsed the IT training initiative, welcomed news of the state implementation grant.
"The city of Cumberland's Office of Economic Development would like to applaud the leadership displayed by ACM in making possible the establishment of an IT Center for Excellence through the MD EARN Initiative," said Shawn Hershberger, economic development coordinator for Cumberland.
"We are honored to have been able to work as a Strategic Industry Partner in this process and are excited about the future impact such educational components can have on economic development within Cumberland and Allegany County."
EARN Maryland is based on a successful national model that has led to improved employment opportunities and higher wages for workers and increased productivity and other positive outcomes for employers, according to DLLR.
The local group was funded in January with a small EARN Maryland planning grant to hire a consultant to craft a plan that addresses specific IT workforce training and development needs now and in the future. The group used these findings to compete for a second grant to implement industry-needed training.
"As an employer who has challenges finding qualified programmers locally," said Jonathan Hutcherson, president and owner of Exclamation Labs, a Cumberland-based Web development and marketing firm, "Exclamations Labs looks forward to the creation of a new initiative that will benefit both small and large companies looking to recruit technical resources."
"As a parent," he added, "I'm excited to get technology-related courses into our schools and colleges so that our children are prepared for tomorrow."
Hutcherson is working closely with ACM to implement the workforce training plan. He is the effort's designated "convener" in addition to being one of its 18 members.
Gov. Martin O'Malley noted the importance of targeted education and skills-training for Maryland workers.
"There is no progress without a job," he said. "By awarding today's state‐funded Implementation Grants to these selected strategic partnerships, we're moving our state forward and helping more Marylanders get the skills they need to qualify for Maryland's most in‐demand jobs."
The governor added, "Working together, we're ensuring that these EARN Implementation Grants will provide industry‐specific, state‐of‐the‐art training for high‐demand occupations."
Employers and stakeholders interested in the Allegany County IT Center of Excellence should contact Autumn Becker, workforce development director in ACM's Center for Continuing Education, at abecker(at)allegany(dot)edu or 301-784-5434.