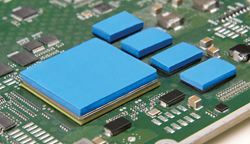 The material is well suited for high performance applications requiring low stress on components during assembly.
Chanhassen, MN (PRWEB) August 11, 2014
The Bergquist Company is proud to introduce its latest product in our Gap Pad® family – Gap Pad® HC 3.0. The new high-compliance Gap Pad® HC 3.0 utilizes a low-modulus resin formulation and filler package to provide exceptional performance at low pressures. The thermal material is well suited for high performance applications requiring low stress on components during assembly. This highly conformable silicone-based material has elastic properties that provide low stress, superior wet-out characteristics and maximum interface adhesion.
Gap Pad® HC 3.0 is fiberglass reinforced to enhance material handling, shear, and tear resistance. In addition, both sides have natural tack which will minimize shifting of the material during assembly. The top side has minimal inherent natural tack which provides a stable release characteristic for clean and easy handling during assembly, leading to significant processing cost savings and throughput. Typical applications for Gap Pad® HC 3.0 include computers and peripherals, power conversion, telecommunications and applications with any heat-generating semiconductor and heat sink.
Dispensing For The Future Ahead
The Bergquist Company is a leading global manufacturer of thermal materials and technologies used to dissipate heat and keep electronic components cool. Headquartered in Chanhassen, MN, it brings high standards and focused leadership, supplying such well recognized names as Gap Pad®, Gap Filler, Sil-Pad®, Bond-Ply®, Hi-Flow® and Thermal Clad® to the electronic industry. Bergquist builds on its innovative abilities to bring new solutions to market, radically helping to shape the growing thermal market with highly-filled liquids and high-performance polymer materials. Using its advanced technology, skilled teams of Bergquist chemists, scientists and engineers collaborate with customers worldwide to create and provide the crucial support and solutions necessary for next-generation products. The current portfolio includes a vast range of products in consumer, computer, automotive, lighting, telecom, medical and military applications. To gain additional information about The Bergquist Company, please visit us on the web at http://www.bergquistcompany.com.