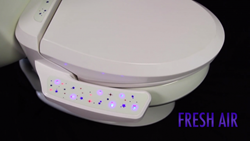 London, UK (PRWEB UK) 11 August 2014
A new invention from the US aims to put an end to the unpleasant and sometimes socially awkward smells often found in bathrooms.
Fresh Air Plus, created by an entrepreneur in Nashville, Tennessee is a high tech toilet seat that uses a sensor and integrated fan technology to quickly and discreetly move unpleasant smells outside the home from the inside of the toilet bowl without the odour spreading around the bathroom. Designed to fit any standard toilet, Fresh Air Plus aims to rid bathrooms of unsavoury odours and will launch through crowd funding site, Kickstarter, in September.
Fresh Air Plus uses a fan located inside the toilet bowl to immediately push smells directly from the toilet to an outside area. When users sit on Fresh Air Plus, the toilet seat activates a sensor that turns on the fan inside the toilet bowl and begins to immediately remove any smells. The technology has been designed for use in US bathrooms and a UK version is currently in development.
During the development of Fresh Air Plus, the Research and Development team found that normal bathroom fans take as long as 10 minutes to get rid of bathroom odours. During this time, a traditional fan also wastes money by pulling heat out of the home. Fresh Air Plus offers a much quicker and more cost effective way to keep your bathroom smelling clean and fresh.
As well as a range of high tech features which will be revealed in the coming weeks, Fresh Air Plus includes a guaranteed 'anti-slam' lip to avoid unnecessarily loud noises.
Fresh Air Plus inventor Adam Payz said: ""The goal of Fresh Air Plus is to remove unpleasant odours while the user is still in the bathroom, both improving the bathroom air during use and easing the user's embarrassment that can sometimes follow. Hopefully, once people realise how well Fresh Air Plus works, it will become a staple feature in bathrooms across the UK and across Europe, removing the need to buy traditional air fresheners."
The Kickstarter crowd funding campaign for Fresh Air Plus is set to launch in September.