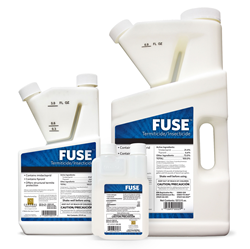 Pasadena, Texas (PRWEB) August 11, 2014
With flexible exterior perimeter pest control application options, FUSE® Fits™ almost any PMP's perimeter pest control program. And now FUSE has become even more convenient for PMPs with the addition of a smaller bottle size: a 7.5 ounce bottle.
The new 7.5 ounce FUSE bottle is a convenient size for both large tank and backpack or handheld sprayer applications. One bottle makes up to 25 finished gallons and allows for better inventory control; enabling each truck to carry just what is needed for the day's routes. FUSE fits the daily product needs of most exterior perimeter pest program routes.
To find out more about how FUSE fits your program, visit our website at http://www.controlsolutionsinc.com.
About Control Solutions Inc. (CSI)
Control Solutions began as a family owned business in 1958 and is built on to the commitment of serving the professional pest control and retail markets. CSI has added product lines for the Industrial, Lawn and Garden, Animal Health and Biocide markets, and is working with over 80 distributors serving those markets. Control Solutions maintains relationships with chemical manufacturers worldwide and provides a ready supply of products in distribution warehouses across the U.S. The partnership with ADAMA, formerly Makhteshim-Agan Industries, multiplies Control Solutions' agility in continuously adding new products to meet the needs of professionals and homeowners. "The one constant since the beginning in 1958 is our mission focus: to seek out and distribute effective and economical solutions for our customers," stated Mark Boyd, President and founder of CSI.
About ADAMA formerly Makhteshim-Agan Industries
ADAMA Agricultural Solutions Ltd. is a leading global manufacturer and distributor worldwide of crop protection solutions. The Company supplies efficient solutions to farmers across the full farming value-chain, including crop-protection, novel agricultural technologies, and complementary non-crop businesses. In 2013, the Company's revenues were over $3 billion, and it is ranked seventh in the world in the overall agrochemicals industry. The Company is characterized by its heritage of innovation, farmer-centric approach to product development, and it's observance of strict standards of environmental protection and quality control. For more information, visit us at http://www.adama.com.