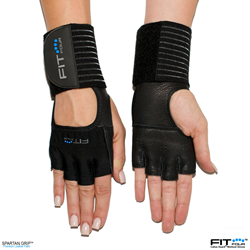 Bountiful, UT (PRWEB) August 12, 2014
Cross training and high-intensity workouts are becoming more popular around the country. More fitness enthusiasts are skipping the old gym workout for more intense and creative exercises that place stress on different parts of the hand and wrist. This means the old bulky weight-lifting gloves just don't have the support today's high-intensity trainers need.
Fit Four™ originally launched the revolutionary four-finger Callus Guard™ workout glove, Anti-Ripper™ and Gripper gloves over a year ago and the response has been tremendous. In addition to high sales the feedback has been positive and helpful, giving the designers at Fit Four™ the opportunity to create a silicone and leather version of their brand new Spartan Grip™ glove. This glove still features the four finger design of the original glove but also includes a gymnastic grip that helps when doing pull-ups and vertical bar work. It also includes a supportive wrist wrap that helps prevent injuries often associated with cross-training exercises and weightlifting.
The open-top design of the Spartan Grip™ glove allows for better air flow and the wrist wraps also helps reduce perspiration from streaming onto the palms and fingers leading to a better all-around grip on pull-ups, dumbbells, kettle bells, barbells and ropes. For those who prefer a more natural grip in competitions Fit Four™ has the leather version and for trainers that prefer a more firm grip it is suggested to use the silicone version. The anti-slip silicone palm allows for enhanced grip and mobility.
The leather version is available in X-Small, Small, Medium, Large and X-Large and comes in black. The silicone version comes in the same sizes and features a black glove with a grey silicone palm grip. With a sleek-tailored design, compression fit, four-finger coverage and no bunching, this glove is essential for any serious cross-training athlete, body builder or person who needs added grip as well as wrist support.
As cross training continues to convert new conscripts to the rugged challenges of indoor and outdoor exercises, athletes and trainer will need the right fitness gear to handle the variety of workouts. The Spartan Grip™ glove is the perfect glove for those that give 110% to their fitness and expect the same from the athletic gear.
The Fit Four Spartan Grip™ gloves are ideal for traditional exercises including bench press, power cleans and curls as well as cross training exercises including pull-ups, rope climbs, tires, kettle bell swings and Sumo lifts. Fit Four™ was created from the passion of healthy, active living. The company is dedicated to creating superior fitness products to aid athletes, cross trainers and gym members reach their full potential.
Press release services by Keyword Performance