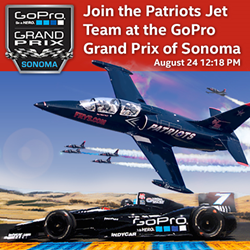 "The audience at the 2014 Go Pro Grand Prix will get to experience a high-octane rush on land and in the sky this year," says Patriots Jet Team owner, Randy Howell. "Our pilots deliver an electrifying performance and you will not want to miss it."
Sonoma, CA (PRWEB) August 10, 2014
The world class pilots of the Patriots Jet Team are scheduled to perform their astounding aerobatics at the GoPro Grand Prix in Sonoma, California on August 24, 2014. The tremendous thrill of a real air show will kick off the final day of the event.
The 6-jet, civilian-owned team will offer race fans a unique glimpse at the skill and precision it takes to achieve difficult formations at unimaginable speeds. The privately owned team offers in-air and grounded appearances, sponsorship opportunities and unique branding impressions through its agent, Exact Market emMPaaS: Events.
"The audience at the 2014 Go Pro Grand Prix will get to experience a high-octane rush on land and in the sky this year," says Patriots Jet Team owner, Randy Howell. "Our pilots deliver an electrifying performance and you will not want to miss it."
About the Patriots Jet Team
The Patriots Jet Team is the only civilian-owned, six-aircraft aerobatic jet team in the United States. Featuring world-class pilots who are former members of elite military teams, the Patriots Jet Team delivers a wide range of innovative in-air, onsite and online marketing opportunities to organizations through Exact Market emMPaaS Cloud. Visit: http://www.patriotsjetteam.com
About Exact Market: emMPaaS Cloud Events
Exact Market is an established Silicon Valley-based marketing company who provides innovative, comprehensive and successful marketing campaigns and services for every sized organization: from Fortune 100 companies to small businesses. For more information visit: http://www.exactmarket.com/.