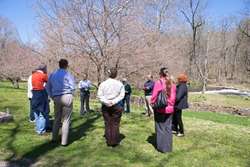 Wilmington, Delaware (PRWEB) August 14, 2014
Hagley Museum and Library has new walking tours to get your wheels turning and your feet marching. Hagley's Walking Tours will take visitors into areas not explored on the regular tour and provide detail in areas that are. Two walking tours debut this fall, "What's for Dinner? A Tale of Two Gardens" and "Workers' World." Walking tours are offered every Saturday from September 6 through November 29, 11 a.m. and 2 p.m. and included in the cost of admission. Reservations are suggested: 302-658-2400, ext. 261. Comfortable walking shoes are recommended.
"What's for Dinner? A Tale of Two Gardens" is the only tour that provides in-depth commentary on the one-plus-acre potagère garden that fed early generations of the du Pont family and the shared garden of powder yarder workers and their families. Join master gardener Richard Heiss as he unearths the importance of these gardens and home-grown produce to the survival of these families. "What's for dinner? A Tale of Two Gardens" is offered on September 27, November 1, and November 8.
The "Workers' World" walking tour discusses the uniqueness of DuPont Company workers' communities compared to other industrial villages locally and nationally. Hagley guide Madeline Rice will bring alive the immigrants, workers, and families with stories about life 200 years ago. Each visitor on the tour will trace a resident of Workers' Hill through their life at Hagley. "Workers' World" is offered on September 20, October 18, and November 15.
Other fall Saturdays feature "Sights, Sounds, and Smells," a walking tour through the powder manufacturing process on October 11 and November 29; "Rocks and Roll Mills," a walking tour about the geology of the Brandywine Valley and its impact on the milling industry on September 13 and November 22; and "H2Oh!," a walking tour tracing the evolution of water power at Hagley on September 6, October 4, and October 25.
About Hagley Museum and Library
At Hagley, we invite people of all ages to investigate and experience the unfolding history of American business, technology, and innovation, and its impact on the world, from our home at the historic DuPont powder yards on the banks of the Brandywine.
For more information, call (302) 658-2400 weekdays or visit http://www.hagley.org.
# # #