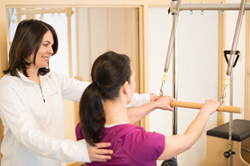 We focus on prevention and empowering women to live stronger on a regular basis, as well as helping them prepare for or heal more quickly. -- Ella Health CEO Melissa Dyrdahl
San Francisco, Calif. (PRWEB) August 12, 2014
Ella Health, a physical therapy and wellness provider designed by women for women, is launching a new style of care based on improving health and helping women live better at all stages of life.
Ella Health offers programs built around the major life events women face, including Healthy Pregnancy and Beyond; Mobility and Stability to prepare for surgery or heal from an injury; Pelvic Power to reduce incontinence; Breast Health to ease the effects of cancer treatments, and Building Bones to prevent and reduce the effects of osteoporosis. All programs are customized for individuals.
"Physical therapy can do so much more for women than just helping to recover from an injury," said Ella Health Chief Executive Melissa Dyrdahl. "We focus on prevention and empowering women to live stronger on a regular basis, as well as helping them prepare for or heal more quickly from health changes such as surgery or injury."
The programs are provided at Ella Health's new, thoughtfully designed center featuring state-of-the-art Pilates and other exercise equipment, private treatment rooms, spacious training areas, and beautiful décor to make women feel welcome and comfortable.
Women can access physical therapy services without a referral under a new law in California.
"Ella Health is a natural fit for San Francisco, a city known for embracing healthy lifestyles," Dyrdahl said. "Our approach blends health and wellness to provide a positive, holistic experience tailored to each individual."
Ella Health is also the first provider in California to offer VESy, an advanced video monitoring system that allows women to see how their muscles respond to certain exercises for incontinence. VESy, which stands for Video Electromyography Synchronization, is used to isolate the most effective movements and create an easy-to-follow routine with quick results and long-term benefits.
"This innovative system allows women to see right away what works and what doesn't when it comes to performing exercises to strengthen the pelvic floor. It represents a breakthrough in our ability to deliver a specialized exercise plan that works," Dyrdahl said.
In addition to individual services, Ella Health also offers small group physical therapy conditioning classes for new moms and women with Parkinson's Disease or Osteoporosis. The new center is conveniently located off of Fillmore Street in Pacific Heights, and limited parking is available.
Ella Health, a woman's wellness provider based in San Francisco, Calif., has centers across the country with health services including physical therapy and 3D mammography. The company is committed to improving the delivery of women's health care.