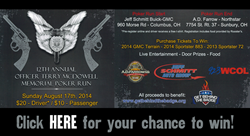 Columbus, OH (PRWEB) August 08, 2014
Get Behind The Badge along with A.D. Farrow Harley-Davidson and Jeff Schmitt Buick-GMC will sponsor the Terry McDowell Memorial Poker Run and Raffle on Sunday August 17th, 2014 Registration is $20 per driver and $10 per passenger. GBTB will be raffling off (2) Harley-Davidson Sportsters from A.D. Farrow Co. Harley-Davidson, a GMC Terrain, and 20 total prizes. Tickets are $20 each and only 3,000 will be sold.
Following the event, live entertainment from Dean Alexander, Ashleigh Kingsmore and a special tribute to Officer Terry McDowell will take place at the A.D. Farrow Co. Shop at NorthStar. There will also be food provided by Roosters and other vendors will be present.
Get Behind The Badge was established in 2001 after the tragic line of duty death of Whitehall Officer Terry McDowell. During the violent attack of Officer McDowell, his partner Eric Brill was also shot and subsequently lost his eye. Officer Brill was unable to return to work as a law enforcement officer. Several weeks later on 9/11, New York City was attacked and dealt a very tragic loss of many lives including those of the first responders (police and fire personnel). These incidents and the line of duty deaths and critical injuries of several other Central Ohio first responders raised the awareness that we needed a charity to raise funds to assist the families of these fallen and injured heroes.
For further event info, registration and to purchase raffle tickets visit http://www.adfarrow.com.
*All proceeds to benefit Get Behind The Badge, a central Ohio non-profit who raises funds for the families of first responders.