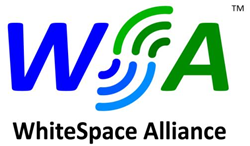 Chelmsford, MA (PRWEB) August 12, 2014
The WhiteSpace Alliance (WSA) ®, a global industry organization enabling sharing of underutilized spectrum, today announced that Saankhya Labs has joined the organization.
Saankhya Labs is a fabless semiconductor company specializing in the development of Software Defined Radio (SDR) communications processors and modules supporting a broad range of emerging data communication standards. Powered by its award-winning Software Defined Radio (SDR) architecture, Saankhya chipsets combine low power, cost efficiency and small footprint, making them ideally suited to building globalized designs for applications such as TV White Space (TVWS), Machine to Machine (M2M) communication and Internet of Things (IoT). Saankya was featured in the 2014 Global edition of Electronic Engineering Times "Silicon 60: Hot Startups to Watch" list.
"Saankhya Labs is excited to be associated with White Space Alliance and we believe WSA will be our key partner to help us stay abreast of technology and regulatory developments in the TVWS domain" said Mr. Parag Naik, CEO, Saankhya Labs. "We plan to implement WSA Wi-FAR™ specification and offer interoperable Base station and CPE modem solutions using whitespaces and shared spectrum for enabling rural broadband. We believe that the Wi-FAR specification implemented on our chipsets is ideally suited for mass deployments in countries like India where ubiquitous broadband connectivity will enable better delivery of distance education and telemedicine among other applications."
"Saankhya Labs is a great example of the leading edge companies from an emerging market such as India that are helping WSA move the industry forward", said Dr. Apurva N. Mody, Chairman of WhiteSpace Alliance. "Advancements in semiconductor development are critical to decreasing costs and speeding time to market for whitespace solutions."
WhiteSpace Alliance, developer of Wi-FAR™ and WSAConnect™ interoperability specifications, has a following of more than 200 major commercial, academic, government and regulatory organizations around the world. WSA member organizations benefit from access to technical specifications that decrease development costs; expanded access to global markets, regulators and government agencies; and ongoing marketing support at no additional cost. Consumers benefit from a multi-vendor, interoperable ecosystem that brings down the overall cost of broadband access. For more information on WhiteSpace Alliance, please visit http://www.WhiteSpaceAlliance.org.
About WhiteSpace Alliance
The mission of the Whitespace Alliance (http://www.whitespacealliance.org) is to promote the development, deployment and use of standards-based products and services as a means of providing broadband capabilities via WhiteSpace spectrum. By promoting the use of standards, the Alliance will enable companies to provide broadband connectivity at reasonable cost. The WSA will also act as an enabler of the emerging white spaces ecosystem by helping to put in place interoperability, conformance, and compliance testing to make sure that our member stakeholders get the needed information & collaborations to succeed both in the market place and with regulatory requirements. Interoperability specifications will allow multiple vendors to enter the market and help to reduce the costs for the consumers. WhiteSpace Alliance promotes the use of IEEE, 3GPP and IETF Standards for use in the WhiteSpaces.
About Saankhya Labs
Saankhya Labs (http://www.saankhyalabs.com) is a privately held fabless semiconductor company, venture funded by Intel Capital and a Tier-1 Automotive Corporation. Recognized as one of the "Silicon 60: Hot Start ups to watch" by EE Times, Saankhya Labs offers programmable baseband communications ICs and modules for broad range of high data rate communications that include TV Whitespace modems and backhaul connectivity, TV & Radio receiver modules for Tablet, HDTV, STB, Home Gateways and low bit-rate Satellite receivers. Powered by its award-winning Software Defined Radio (SDR) architecture, Saankhya chipsets are the only field proven programmable receivers in the TV consumer market. Winner of 2010:TV Innovation award by IMS Research, USA, Saankhya's Multi-standard DTV modulator (SL900x) and demodulator (SL100x) chipsets are low power, cost efficient and small foot-print, ideally suited to build globalized designs for TV reception and transmission. In addition to supporting standard TV and Radio functions (ATSC, DVB-T, ISDB-T, QAM-B, DVB-C, ISDB-C, DTMB, FM, DAB, DAB+) the chipsets can support emerging data communication standards like TV White Space (TVWS), Machine to Machine communication (M2M) and Internet of Things (IoT). Saankhya Labs also offers unique custom modulation and demodulation techniques to provide an additional layer of PHY security, addressing a critical requirement of secure, closed-loop communication systems.