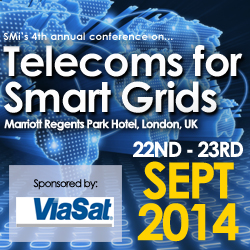 ... the worldwide market for smart grid data analytics is expected to grow steadily through 2020, with cumulative worldwide spending from 2012 through 2020 totaling just over $34 billion- Navigant Research, 2014
London, UK (PRWEB UK) 9 August 2014
The volume of data for utilities is expected to grow by several orders of magnitude over time. Utilities will have to solve data collection and storage challenges and learn how to analyze and act on new forms of information before they even get to the point of realizing real returns on their smart grid investments.
Overall, the worldwide market for smart grid data analytics is expected to grow steadily through 2020, with cumulative worldwide spending from 2012 through 2020 totaling just over $34 billion. The bulk of this spending will occur in Asia Pacific, where annual investment will surpass $2.5 billion by 2020.
(Source: Navigant Research, Smart Grid Data Analytics, 2014)
Following on from this IBM UK will be speaking at this year's Telecoms for Smart Grids conference to provide an exclusive session on the challenges and opportunities with data analytics. Highlights from the presentation entitled: Focal points for the transformation to an optimised, dynamic smart grid network , will include:

We are at an inflexion point in the transformation of the energy industry, facing challenges that demand clear strategies and strong leadership - technology alone isn't the answer.
Implementing smart grid technologies is a fundamental business transformation, where the transformation challenges traditional responsibilities.
The collection of vast amounts of data is one of the key features of smart energy systems, and the ability to derive intelligence from this data through the application of advanced analytics will feature strongly in responding to the challenges posed.
Key to the achievement of these objectives is the development of open standards and frameworks that encourage innovation and competition whilst facilitating interoperability.
Telecoms for Smart Grids 2014 will provide a mix of case study led presentations, panel debates and keynote addresses that have been tailored to an audience of professionals involved in UK and European smart grid and meter communications infrastructures, data communication integration, substation automation, distribution network upgrades and business process management. The above is just a snap shot of what will be covered at the event. For more information please visit http://www.telecomsforsmartgrids.com.
Industry Challenges Addressed

Developing telecoms networks specifically for smart utility grids
Cyber security of the electric power grid and the interconnectivity and the potential vulnerabilities between smart grids and smart homes
Telecommunications spectrum challenges for smart metering and grid rollout
Developing a smart water network - the iWidget project and what this means for EU utilities
One year on - Data Communications Company industry update
Hear from:
ZigBee Alliance, E.ON, Data Communications Company, Enel Distribuzione SpA, Scottish and Southern Energy, DECC, Echelon Energy and Utility, ESB, University of Exeter plus many more.
For those who are interested in attending there is currently a £300 reduced rate through online registrations, using the following code: SMI3P2C.
--END--
4th annual Telecoms for Smart Grids
22-23 September, 2014
Marriott Regents Park Hotel, London, UK
Sponsored by: Viasat
http://www.telecomsforsmartgrids.com
About SMi Group
Established since 1993, the SMi Group is a global event-production company that specializes in Business-to-Business Conferences, Workshops, Masterclasses and online Communities. We create and deliver events in the Defence, Security, Energy, Utilities, Finance and Pharmaceutical industries.
We pride ourselves on having access to the world's most forward thinking opinion leaders and visionaries, allowing us to bring our communities together to Learn, Engage, Share and Network. We hold events in over 30 major cities throughout the world including London, Paris and Singapore and to date have welcomed over 200,000 participants from 80 countries.
More information can be found at http://www.smi-online.co.uk.