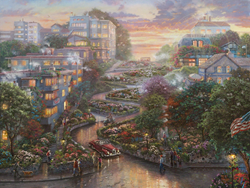 Thom would frequently ride his motorcycle and set up his easel to capture the sweeping views that Lombard Street offers
MORGAN HILL, CA (PRWEB) August 12, 2014
The Thomas Kinkade Company announces the immediate availability of the highly anticipated limited edition art image "San Francisco, Lombard Street II" from the Thomas Kinkade Vault. This is the twelfth addition to the San Francisco Collection joining several sold out titles such as "San Francisco, Late Afternoon at Union Square", "San Francisco, 1909", and "Fisherman's Wharf, San Francisco". Six of the eleven previously released titles are sold out at the publisher and have become sought after in the collectors' market. The subject matter of San Francisco thematically focuses on iconic destinations in The City by the Bay. Distinct details keep this piece true to its collection and a few elements have been brought into this piece from the first "San Francisco, Lombard Street" such as the red car and Thomas Kinkade himself riding in his motorcycle.
The subject of this new piece, Lombard Street in San Francisco, is famous for its steep incline and hairpin turns. These distinct features are why it is considered the 'crookedest street in the world' and is a major sight to see in The City by the Bay. These curves and slopes are featured prominently in the newly released work of art.
Thomas Kinkade Company Chief Executive Officer, John Hasting notes, "Thom would frequently ride his motorcycle and set up his easel to capture the sweeping views that Lombard Street offers". On this subject, Thomas Kinkade was quoted as saying, " On Lombard Street, life is a gala celebration of the endless possibilities of city life".
The newly released work of art depicts this iconic San Francisco landmark and continues to carry on the tradition of romantic luminous cityscapes in classic Kinkade style.
This image is available in three sizes in limited release through authorized Thomas Kinkade Galleries.
Thomas Kinkade, the Painter of Light™, emphasized simple pleasures and inspirational messages through his art and the branded products created from that art. From textiles, to collectibles, to music and books, The Thomas Kinkade Company strives to inspire and uplift people of all faiths and to bring peace and joy into their lives through the images Thom created. For additional information on Thomas Kinkade or to open your own Thomas Kinkade Gallery, visit http://www.thomaskinkade.com.