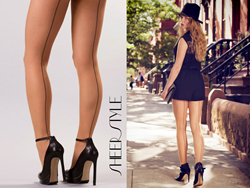 I match my outfits to my hosiery and not the other way around.
New York, NY (PRWEB) August 10, 2014
Think Birchbox and Harry's had a great idea for a subscription model? Great, you'll love this too.
The newly launched hosiery dedicated site, SheerStyle.com, is now offering subscription services and an included rewards programs. The new service is the most rewarding way to integrate this timeless fashion staple into ones wardrobe, with the added benefit of fashion-forward "how to wear it" original content. Hosiery buying just got easier and a whole lot more fashionable.
SheerStyle's subscription service makes going to the store to buy the same style of stockings obsolete. Customers who sign up for a subscription receive their favorite luxury stockings monthly in addition to 15% off all items in store while they're subscribed. With this convenience, gone are the days of buying fashion staples at a drug store just to have them rip after one wear. 
To put it simply, the concept behind SheerStyle is smart. Founder and Creative Director Justine Mooney explains how the concept came to be:
"Hosiery is a fashion staple for me and so many women I know, but I just wasn't finding the online experience I was looking for when shopping, especially when it came to rewards. In this era of ubiquitous rewards programs, I couldn't believe there wasn't a place online where I would be rewarded for buying the hosiery staples I was picking up at least once a month. And since hosiery is not something that one can try on in-store, it's one of the few things I almost exclusively shop for online. So, earlier this year, I started SheerStyle.com to be a place where customers can find the variety and quality they're looking for in a space that looks great, is rewarding, and ultimately builds trust and loyalty."