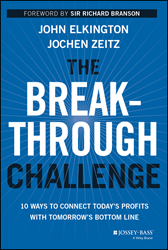 Hoboken, NJ (PRWEB) August 08, 2014
Sustainability is becoming increasingly important to businesses and corporations all over the globe. Companies are increasingly asking the question: what should our business strategy be in context of demographic, environmental and resource pressures? A growing number of the world's most forward-looking CEOs recognize the central challenge facing business today: a fundamental shift in the nature of commerce.
The Breakthrough Challenge: 10 Ways to Connect Today's Profits With Tomorrow's Bottom Line (WILEY; August 2014; Hardcover & eBook; ISBN 978-1-118-53969-9; $28.00) by John Elkington and Jochen Zeitz is based on the pioneer work of The B TEAM, a global nonprofit initiative redefining business as a driving force for social, environmental and economic benefit. The project carries forward the concept of "sustainability" and brings together prominent voices in the business world such as Ratan Tata, Chairman Emeritus, Tata Group; Paul Polman, CEO of Unilever; and Arianna Huffington, founder and CEO of The Huffington Post to propose that the most important goal for a business must be to redefine the bottom line to better align with the People, Planet & Profit, accounting for true long-term costs throughout the supply chain. To achieve this, leaders must rethink everything:

How to stretch ambitions and targets to match the nature and scale of the challenges
What counts on business balance sheets
How to incentivize performance throughout companies and their supply chains
Who needs to do what in the C-suite
The Breakthrough Challenge draws on over 100 exclusive interviews to map the emerging landscape of risk and opportunity, investigating the pioneering work of CEOs and other business leaders from around the globe. While government action, academic research and nonprofit activism will all be part of the solution, CEOs and other leaders must now focus on social, environmental, and economic benefit—both because it will make the world a better place and because it will boost the chances of success in tomorrow's business environment.
Change-as-usual strategies are not enough to move business from the risk of breakdowns to the opportunities opened up by breakthrough innovation, entrepreneurship, investment and policy-making. The Breakthrough Challenge show why transformational change is now necessary, who is taking the lead in developing market solutions, and how they are replicating and scaling the mindsets, technologies and business models that business will need to perform against tomorrow's bottom line.
To learn more about The B TEAM, please visit, http://bteam.org
About the authors
JOHN ELKINGTON (London, UK) is an internationally-prominent author, speaker, and consultant in the field of corporate social responsibility. He has cofounded 3 companies, most recently Volans in 2008, consulting with major clients such as HP. He coined the term "triple bottom line" in 1997's book Cannibals With Forks. CSR International ranked him #4 in their "Top 100 CSR Leaders"; in 2004, BusinessWeek called him "a dean of the CSR movement for three decades"; the Evening Standard called him a "true green business guru."
JOCHEN ZEITZ (Switzerland) is co-founder and co-chairman of The B Team. He is a director at Kering (formerly PPR) and chairman of the board's sustainable development committee, after having been CEO of the Sport & Lifestyle division and chief sustainability officer (CSO). Previously, he served eighteen years as chairman and CEO of Puma. He was the youngest CEO in German history to head a public company. He is a board member of Harley-Davidson and Wilderness Safaris and is co-author of The Manager and the Monk (Jossey-Bass, 2012), which has appeared in fifteen languages. Among other awards, he was named the Financial Times Strategist of the Year three years in a row.
If you are interested in an interview with the authors or would like more information, please contact Sadhika Salariya, Publicist – WILEY – ssalariya(at)wiley.com/201-748-6782.