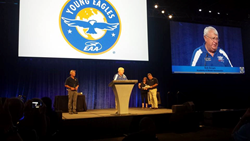 Modeling is a catalyst for numerous people's successes.
Muncie, IN (PRWEB) August 11, 2014
The AMA is proud to announce that it has been honored with the 2014 EAA Young Eagles Horizon Award. AMA received the award for its contributions to the overall success of the Young Eagles program. AMA and EAA have built a partnership through the EAA Young Eagles program, providing education-through-aviation experiences.
The AMA and EAA established an official partnership through a memorandum of understanding in 2010, but have been working together for many years to inspire young aviators. In a recent AirVenture Today article, a newspaper published during EAA AirVenture Oshkosh, WI, AMA President Bob Brown stated, "Modeling is a catalyst for numerous people's successes." Bob also shared information about some of the famed pilots who got their start with model airplanes.
AMA and EAA have both adopted a free dual membership for youth. The two organizations have partnered for several other projects such as KidVenture, where the AMA provides RC airplanes and flight simulators. The AMA has also offered the EAA AirVenture Museum items to display.
AMA clubs across the country support local EAA chapters. Many members attend events in their area, provide assistance through flight demonstrations, and more. EAA and AMA work to promote aviation, and provide programming for future pilots.
Brown accepted the honor July 30 during EAA's annual Young Eagles Awards Dinner, held as part of EAA AirVenture.
The Academy of Model Aeronautics has been the nation's collective voice for approximately 165,000 modelers in 2,400 clubs in every state and US territories since 1936. A nonprofit association, headquartered in Muncie IN, AMA sanctions more than 2,000 events and competitions each year under the auspices of the National Aeronautic Association.