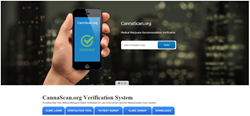 We are providing real solutions to reducing the number of patients on opiates and with our software advantages, hope to save lives.
Springfield, MA (PRWEB) August 11, 2014
The developers of a new patient verification system, Cannascan ®, has addressed the Massachusetts Department of Health's concerns to verify – in real time – whether an individual is a valid medical marijuana patient.
Currently, the MA Department of Health does not have a patient verification system in operation and police and court systems have been unable to determine whether the physician issued Patient Recommendation Letters are valid or counterfeit. These letters, issued by a patient's treating physician, act as Medical Marijuana Cards that allow patients to possess up to 10 ounces of useable marijuana every 60 days.
Without knowing whether a patient has possession of marijuana legally or not, police have to make the difficult choice as to an individual's legal status during traffic stops and other investigations.
Cannascan®, the only real-time patient recommendation validation system in Massachusetts, is the brainchild of a group of physicians, attorneys and former law enforcement officers which allows the police, probation departments and other parties to immediately verify the status of a patient with his/her treating physician's office, 24/7.
Patients who are legally allowed marijuana in MA are part of Cannascan's® database and have a unique code embossed on the bottom of their physician's recommendation letter. This code, provided by each physician individually, is entered into the verification page at Cannascan® and the patient's status is immediately presented, along with an exact copy of the patient's recommendation and identification.
In April of 2014, the MA Department of Health advised all medical marijuana physicians to cease and desist the practice of providing patient ID's for a fee. These ID's have no legal significance and are considered unethical. Cannascan® solves this problem and allows the 'Good Guys to Weed out the Bad'.
Dr. William Cristo, owner of Community Health Clinics in Springfield, MA and Co-founder of Cannascan® states, "Cannascan® is another tool in our arsenal at Community Health Clinics to provide a new and unique type of patient care. Community Health Clinics' approach is that patients usually have more than one issue of care. Complex care patients, with both systemic physical and psychiatric conditions, require increased monitoring and coordination of care both in-house and between medical providers.
Community Health Clinics is also developing cloud-based software that allows physicians with common patients to coordinate and manage their patient's care on a real-time basis as well.
With the new software, physicians will be able to communicate by video conferencing, schedule meetings, converse with patients and other providers real-time as well as with family members and caregivers. In addition, doctors will be notified when patients miss scheduled appointments, default on lab work, etc. "We're building a Community of Providers", Cristo adds. "A Clinic in the Clouds."
Cristo firmly believes his medical marijuana patients and the entire medical marijuana program in Massachusetts would benefit from the implementation of his Community Health Clinics model. "Our main focus is opiate addiction," says Cristo. "We are providing real solutions to reducing the number of patients on opiates and with our software advantages, hope to save lives."
Cannascan® is currently in use at Community Health Clinics in Springfield, MA and is available to physicians and law enforcement nationwide.
Contact: David A. Mech, Esq.
1 Crescent Hill
Springfield MA 01105
413-883-3471
gignation(at)gmail(dot)com
http://www.cannascan.org