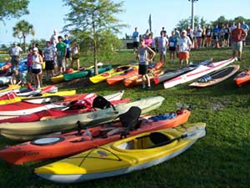 We structured this race so it would be fun for many fitness levels.
Casselberry, FL (PRWEB) August 11, 2014
The race will feature a 2.3 K Run, 3K Paddle and end with another 2.3 K Run. We structured this race so it would be fun for many fitness levels.
RunYak will be held at Secret Lake Park, nestled in the heart of Casselberry. This amazing park features ball fields, a community center, paved running trail and one of the most peaceful non-motorized blueways in central Florida.
Participants should bring their own kayak or paddleboard along with a Personal Flotation Device (life jacket) and paddle. Rentals are available but must be reserved at time of online registration.
New Canoe Relay Team Division!
One team member runs first leg then both paddle the canoe and the other team member runs the final leg. This division is available for canoes only. Should we have 6 or more teams sign up paddling tandem kayaks, we will open a kayak division as well.
Individual divisions: Kayak & Paddleboard.
Rentals
Limited quantities of kayaks, PFDs & paddles are available for rental but only at the time you register online. We prefer that participants in the Canoe Relay division rent a canoe during registration. There are plenty of Canoes available for rental and this will ensure everyone is paddling the same Canoe.
Over $400 in Prizes & Swag
Great prizes will be awarded to top finishers and everyone will be eligible for raffle prizes from TravelCountry.
Get more info or register at http://www.RunYak.com.
About Travel Country
Travel Country is one of the largest independent adventure gear and apparel outfitters in the Southeast United States. Since 1981, TravelCountry has offered the outdoor industry's best brands, including Vibram Fivefingers, The North Face, Hobie, Big Green Egg and more. Skilled and expert advice matches up to those brands for an unparalleled customer experience. TravelCountry is located in Altamonte Springs, Florida, just 15 minutes north of Orlando. For more information, visit TravelCountry.com.
About Friends of the Park
Friends of the Park is a volunteer group interested in beautifying parks and other public spaces in the Casselberry area. Activities include tree plantings, park and shoreline clean-ups, beautification projects, and offering community events such as Earth Day and Get Outdoors! Casselberry. Since 1999, they have recorded more than 10,000 volunteer hours.
About Casselberry Parks & Recreation Division
Casselberry has numerous parks throughout the City that offer over 100 acres of land with fishing, kayaking, canoeing, hiking, a swimming pool, dog park, bike trails, playgrounds, picnic areas, ball fields and more. Whether you are looking for your own secret fishing spot or a place to meet for a picnic and game of volleyball, the City of Casselberry has what you need for a day of fun and relaxation. The City Parks & Recreation Division is constantly expanding its services and facilities, truly making Casselberry a community of which to be proud.