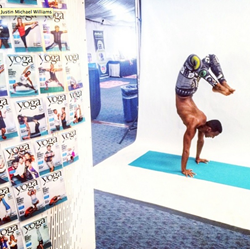 Charlotte, NC (PRWEB) August 13, 2014
Last month, YogaVibes visited San Diego to celebrate all things yoga. Yoga Journal Live!: San Diego was an incredible event filled with yoga workshops, sponsors, vendors, intensives, and other memorable highlights!
At the apex of the event, YJLIVE guests enjoyed an evening with celebrated author, scientist, and physician, Deepak Chopra. Deepak discussed that science is finally starting to get behind what yogis have known all along: that yoga and meditation are practical ways to experience higher consciousness, transformation, and healing.
Another event highlight was the photo booth station run by Yoga Journal, where Yoga Market guests could strike a pose to be featured on the cover of Yoga Journal Magazine! YogaVibes' online yoga instructor, Justin Michael Williams, got in on the fun, striking an impressive Handstand Scorpion variation! Yoga Journal covers featuring YJLIVE guests decorated the venue.
Justin also co-presented a no nonsense, highly informative Business of Yoga Workshop featuring a 5 step process to ensure a yoga business stand outs when it comes to brand creation and promotion.
What's more, body image advocate and YogaVibes instructor, Gigi Yogini, was in attendance and contributed to a powerful talk on the issue of body image in the yoga culture presented by Yoga Journal Live!, lululemon athletica, and Off the Mat, Into The World. This talk proved that great things can happen when you bring community leaders together for a heartfelt, but challenging conversation in the pursuit of positive change!
YogaVibes is so thrilled to continue its collaboration with Yoga Journal, including attending more YJLIVE events like this across the country. Next up, is Yoga Journal LIVE!: Florida. Join the YogaVibes/Yoga Journal team there for a fresh mix of presenters including Kino MacGregor, Sri Dharma Mittra, Coral Brown, Justin Michael Williams, and more yoga inspiration.
ABOUT YOGAVIBES
YogaVibes is the premium source for streaming online yoga classes and free online yoga videos. No more worries about making it to class on time! Stream online yoga at work, at home, in the airport - wherever, whenever! YogaVibes takes the stress out of finding time for yoga. Join now to sweat, stretch, explore, unwind, or bliss out! Learn more at http://www.yogavibes.com.
ABOUT YOGA JOURNAL LIVE
For 18 years, Yoga Journal LIVE has provided the unique top-notch educational opportunity for yoga practitioners of all levels, from all over the world, to experience Yoga Journal Magazine LIVE! Attendees come to explore new styles, get inspired and connect with our top-tier roster of highly regarded yoga teachers and luminaries. Yoga Journal LIVE - held in Colorado, New York, San Francisco, San Diego and Florida - feature classes, panels, keynotes, intensives and a Yoga Marketplace with products and services for healthy balanced living. Learn more at http://www.yjevents.com.
ABOUT YOGA JOURNAL
Yoga Journal is the most widely read yoga publication in the world. With more than 1.5 million unique visitors per month, 10 international editions, conferences, DVDs, and iPad, Nook and Kindle editions, the brand reaches an audience of nearly 10 million worldwide. The magazine, founded in 1975, was acquired by Active Interest Media in 2006. Learn more at http://www.yogajournal.com.