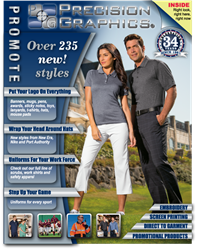 It's Simple, We Need Your Help at Precision Graphics To Meet This Challenge!
Tempe, Arizona (PRWEB) August 25, 2014
Precision Graphics introduced the first catalog in 1981 with less than seven pages. With the addition of 235 new styles it puts their product offering for custom screen printing in Phoenix to now over 700 products. Precision Graphics owner Julie Breazeale leads the sales team in high quality product knowledge and excellent customer service says, "I'm proud of what we have accomplished in 34 years. In an economy where businesses are failing we are able to stay ahead of the curve and bring more products to our customers to better service their needs."
Precision Graphics began as a two person run operation in 1981. Now it operates out of a ten thousand square feet building with several employees. Slow steady controlled growth has been a key in their ability to stay in business so long. Julie Breazeale also goes on to say, "Managed growth is better in this industry. We can't base our growth on this month's orders. We need to give our employees 40 hours per week they can count on. I'd rather take it slow than get too big we can't remember where we came from."
Have a Deadline? We Perform Miracles, has been their slogan since the founders David and Sandy Breazeale started 34 years ago. Jumping through hoops is exactly what the slogan means as their staff well knows; as they have endured that slogan during many obstacles of producing each job on-time and perfect. Precision Graphics is looking to the future and seeing the second generation family business getting ready for its third generation to grab the helm. With technology changing and more and more competition in the industry of printing t-shirts and promotional merchandise; Precision Graphics pushes forward in new technology, better programs, and most of all a better trained staff that can service customers more effectively and exceed their expectations.
Over the past 34 years in the industry of screen printing in Phoenix, Arizona, Precision Graphics has also evolved in its processes with new machinery, environmentally friendly inks and cleaning chemicals to better the environment. This business has expanded its services to include screen printing, embroidery, direct to garment digital t-shirt printing, promotional products and developing online web based ordering programs.
Precision Graphics offers online ordering and customization. The website contains an online designer that shows all three decoration processes. This apparel designer allows the customer online to see how their embroidered cap, custom embroidered jacket or digitally printed t shirt will look upon delivery from Precision Graphics. This online designer software shows how the real stitching looks stitch by stitch and all the different textures that embroidery designs can offer. Not a graphic designer by trade? No worries, this program has built in free clip art and fonts to help design custom apparel. Start today by clicking online and creating a walking billboard t-shirt.
In addition to the available online ordering, Precision Graphics still maintains one of the largest showrooms with over 700 products on display. Samples are available. The customer has the option of going to a physical location to purchase and not be limited to online like so many retailers today.
For over 34 years Precision Graphics has invested into new technology, created better processes and expanded their product offerings, but still maintains the same telephone number 1-877-967-7015 and website. This should keep them around for many years to come.