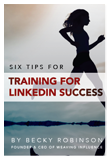 'We've received overwhelming feedback that our Ebook's content has resonated deeply with our clients – especially Tip #2: Consider Your Location.'
Lambertville, Michigan (PRWEB) August 11, 2014
Weaving Influence, a leading marketing firm in the publishing industry, has shared a new downloadable Ebook that reveals how to harness the power of LinkedIn, the world's largest professional social media network. The new Ebook – entitled Training for LinkedIn Success - offers tips, insights, and 6 easy-to-implement steps that can help any author, thought leader, or other professional gain prominent exposure within the international LinkedIn audience.
Weaving Influence has developed global standing as a trailblazer in leveraging the most potent social media platforms for client book launches and other publication promotions. Founder and CEO Becky Robinson shares that her company's newest Ebook has enjoyed more than 300 downloads to date, and has captured the attention of both the company's clients and other key international thought leaders: "Wow, wow, wow. Beautifully designed, and contains great content," shared author Karen Martin. "Loved the running analogies," enthused author Jim Estill.
"We've received overwhelming feedback that our Ebook's content has resonated deeply with our clients – especially Tip #2: Consider Your Location," says Robinson. "Within this tip, we share how to grow your online influence by considering how your travel schedule can present opportunities to deepen and renew LinkedIn connections. We walk you through the four steps of creating specific occasions to leverage your LinkedIn network while traveling for business or pleasure."
In addition to Training for LinkedIn Success, Becky Robinson and her team at Weaving Influence have created a series of 11 other Ebooks to help professionals at every social media experience level learn to build a community of significant, relevant online connections. These resources are now being shared at http://www.weavinginfluence.com/ebooks.
"At first, my team and I developed these guides filled with tips, lessons, and core insights about building a robust online legacy in order to help our clients learn more about our services," said Robinson. "Over time, we saw how thoroughly our clients were benefitting from what they learned in these Ebooks, so we decided to share the resources for free in the spirit of advancing understanding of social media within the publishing industry – and beyond."
Robinson shared that the overarching goal of offering her company's social media resources for free is to help authors and other professionals create 'influence congruence' – the state of matching online influence with the depth and breadth of influence offline. "We've seen these Ebooks help create that congruence," said Robinson, "and so we're quite excited to expand the availability of these resources to other authors, thought leaders, and professionals who would benefit from achieving 'influence congruence' in their own careers."
The collection of Ebooks currently being offered at no monetary charge on Weaving Influence's website are: Training for LinkedIn Success; Twitter For Beginners; Social Media for Leaders; 12 Minutes to Change Your Day; 31 Days of Twitter Tips; Strategy & Branding Playbook; Website Basics & Blogging Playbook; Social Media Quick Start Guide; Your Book Deserves a Celebration; Becky Robinson on Weaving Influence (Aha Amplifier); and Insights from The Top Leadership Authors (Aha Amplifier).
Founded in 2012, Weaving Influence brings together more than 30 skilled professionals to partner with authors and thought leaders to grow their online influence and market their books. The company identifies client priorities and focuses on providing ideas, plans, strategic advice, social media consultation, and online implementation. While primarily serving authors and thought leaders, Weaving Influence also works with corporations, small businesses, and nonprofit organizations. For more information, please visit the company's website.