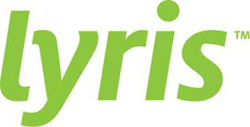 Philadelphia, PA (PRWEB) August 11, 2014
Lyris, Inc. (LYRI) today announced expanded real-time marketing capabilities across multiple digital channels with the latest release of its Lyris Real-Time Retargeting application for Lyris HQ, the leading cloud-based email and digital messaging solution. The new capabilities include dynamic website and email content for product recommendations and open-time personalization, as well as Web behavior-based targeting capabilities using recency, frequency, and monetization segment criteria. Lyris will be demoing the solution in booth #52 at eTail East taking place this week from Monday to Thursday.
According to a recent eMarketer report, online shoppers abandon their digital shopping carts roughly two-thirds of the time – a level that has remained virtually unchanged over the past few years. There are many reasons for these high abandonment rates, including comparison shopping habits and offline distractions that prevent customers from completing a purchase. That makes it paramount for retailers to remarket to these customers, help them find what they are looking for, and ultimately, provide a better customer experience.
Lyris Real-Time Retargeting empowers marketers to achieve critical marketing program goals, including:

Increased sales with real-time browse and cart abandonment remarketing, all within the optimal time to recapture business.
Increased registration with form abandonment retargeting for any site process, e.g. account creation, applications, subscriptions, etc.
Increased customer lifetime value with targeted post-purchase programs that combine best practice Web behavior analytics with demographic and preference data to deliver connected email communications.
Increased average order value with product recommendations that can be dynamically inserted into remarketing email messages with just a few clicks.
Increased online sales and engagement with website personalization that centrally orchestrates content feeds and allows them to be anywhere on the website.
Leading Lyris customers including Electrolux, Access Intelligence, Essential Apparel, illycaffè, and Grupo Éxito have deployed Lyris Real-Time Retargeting to deliver integrated real-time messaging and personalization that drives customer and business value.
"Online customer engagement and service is a top priority for us as a manufacturer, and a critical component of providing a great overall customer experience," said Shealyne O'rourke at Electrolux. "Lyris Real-Time Retargeting makes it easy to re-engage customers via email, which ultimately leads to a higher conversion rate."
"Understanding online behavior is a key priority for us as an e-media marketing company, and an essential component of developing a seamless ecommerce experience," said Stuart Bonner at Access Intelligence. "Lyris Real-Time Retargeting will allow us to easily reengage with our customers in an effort to remove any obstacles they may encounter in the online purchasing funnel."
"Real-time customer analytics and marketing capabilities are essential requirements for the orchestration of connected customer communications," said Akin Arikan, senior director of product marketing at Lyris. "The key to making this actionable is to provide these capabilities to marketers in a way that is simple to use, quick to configure, and easy to measure with precision, creating significant value for our customers and their customers alike."
In addition to exhibiting at eTail East, Brennan Carlson, senior vice president of product and strategy at Lyris, will be speaking on a panel: "Optimize Your Trigger and Batch Campaigns: Take Your Campaigns to the Next Level." The panel will take place Monday, August 11 at 11:40 a.m. ET.
Supporting Links:

About Lyris
Lyris is a global provider of innovative email and digital marketing solutions that help companies reach customers at scale and create personalized value at every touch point. Lyris' products and services empower marketers to design, automate, and optimize experiences that facilitate superior engagement, increase conversions, and deliver measurable business value. The Lyris solutions portfolio is uniquely comprised of award- winning messaging automation software, digital marketing strategy and deliverability services, and a componentized and flexible integration framework that revolutionizes the way marketers can extend digital messaging across the enterprise. More than 5,000 companies worldwide partner with Lyris to manage connected customer communications.