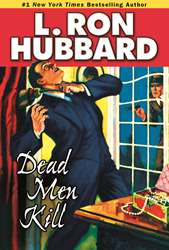 And the great thing about the books that L. Ron Hubbard wrote is that they really do—they talk about values and doing the right thing.
Hollywood, CA (PRWEB) August 08, 2014
Saturday, August 9 has been designated a day for those who love to read—"Book Lovers Day," a day that encourages anyone to relax with a great book. Whether one's taste is romance, mystery, science fiction, fantasy, western, or any of the non-fiction categories, celebration of the written word is what this day is all about.
Two specific titles—both by L. Ron Hubbard—that president of Galaxy Press, John Goodwin, offered up to book lovers were Battlefield Earth, one of the bestselling science fiction novels of all time, and Dead Men Kill, which Fangoria called "Frightful fun from yesteryear."
Galaxy Press has been strong supporters of reading and literacy efforts for many years with its Stories from the Golden Age line of books and audiobooks written by L. Ron Hubbard and consisting of stories written in all popular genres that are appropriate for readers of all ages.
One specific literacy program that Galaxy Press supports is the US Marine Toys for Tots as a 4-star sponsor. General Pete Osman, USMC Ret, CEO of the Marine Toys for Tots stated, "When I took over as President and CEO in 2008, literally one of the very first things that I did was create the Toys for Tots literacy program. And it's had a pretty good impact. Has it addressed all the literacy problems in our country, of course not. And there are many other organizations that are working hard with us to do that. But we have been able to distribute over 19 million books to less fortunate youngsters as well as to elementary schools that are located in depressed areas."
The General went on to say specifically about Hubbard's fiction works, "He is without question, one of America's most prolific writers of what I would call wholesome adventure books. And the great thing about the books that L. Ron Hubbard wrote is that they really do—they talk about values and doing the right thing. I mean it's something that in today's society, you're not quite sure what a kid is going to pick up and read. If they pick up one of these books, you know that it's going to be wholesome and it's going to have the right kind of ending that you want it to have. And I think that's really, really important."
Stories from the Golden Age contains 153 stories all written by Hubbard during the 1930s and 1940s, widely-considered the "Golden Age of Science Fiction and Fantasy." The print version of each work includes the pulp fiction artwork that originally-accompanied the story in magazine publication. In addition, each title offers a full-cast, unabridged audio theatrical presentation complete with theme music and dimensional sound effects. These titles are available wherever books are sold.
For more information on the fiction works of L. Ron Hubbard, visit http://www.galaxypress.com and http://www.goldenagestories.com.