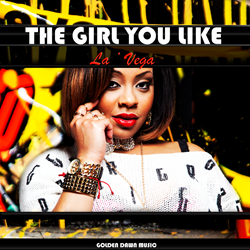 New York, New York (PRWEB) August 08, 2014
She quit her part-time job at a local retailer, to live out her dream as a musician, and has not looked back since.
Her latest music video "The Girl You Like" has almost reached 70,000 views on YouTube, and her record label MVBEMG has her in Quad Studios every week, recording her fifth mixtape, "Life Is Good".
La ' Vega's popularity as the next female Rapper is growing steadily, and her music video for her most popular single "The Girl You Like" can now be seen on a well known Hip Hop site AllHipHop.com.
The owner of MVB Entertainment Music Group (MVBEMG), Abdel 'Sosa' Russell, calls her the most consistent and hard working female Hip Hop artist in New York City, and that its only a matter of time before the world knows who she is.
La ' Vega just released her latest single on iTunes "Wake The Neighbors" up, and it can also be found on popular music streaming services such as Spotify, Rdio, Xbox Music, and many more.