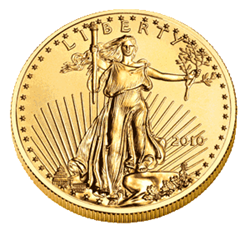 Store gold on the Bitcoin Blockchain
San Francisco, CA (PRWEB) August 11, 2014
Physical gold and the world phenomenal Bitcoin protocol are finally linked, thanks to the developers at Digital Tangible Trust.
Due to bitcoin's price volatility, many investors have remained enthusiastic spectators of the new digital currency. Now those hesitant sound monetarist have the option of storing physical gold on the Bitcoin protocol.
Using DigitalTangible's unique integration with the Bitcoin protocol, bitcoin holders can purchase digital tokens which come with an allocated proof of delivery from a bonded depository. By doing this, Bitcoins holders can temporarily flee the turbulent crypto market for the steadier shores of gold.
The first 100 customers that purchase gold coins or bars with DigitalTangible and Agora will enjoy free shipping and free custody for the rest of 2014 on all their gold purchases. Also, customers will enjoy exclusive discounts of $5.00 or more on the 1/10 Oz Gold Eagle and the 1/10 Oz Gold Maple Leaf coins. Find out more by visiting DigitalTangible or by calling +1 (415) 890-5431.