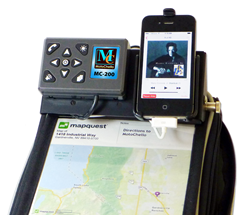 MotoChello really hits the mark with the MC-200 audio system. Easy to operate and it sounds incredible!
Gardnerville, NV (PRWEB) August 11, 2014
MotoChello of Gardnerville, NV, makers of audio and communication systems for on- and off-road vehicles, announced a newly designed premium motorcycle audio and communication system. MotoChello re-engineered some popular concepts and added new features to blend superior audio quality and useful functions into the new MC-200 system.
The MC-200 seamlessly integrates multiple devices with blended channels and amplification. There are 3 audio ports (plus FM/WB), built-in intercom and a two-way radio interface. Priorities, direct iPhone® interface, isolated inputs, automatic volume adjustments and an available bluetooth receiver are just a few of the new features.
A built in FM radio has both U.S. and European station formats. The radio has familiar search, seek and saved presets. Available weather band stations are already programmed into the system. Shortcut keys take users to the radio menu to change stations and return to the main screen from any menu.
The MC-200 is noticeably smaller than previous systems. Its display can mount on the handle bars or be removed after setup when not using the hands-free phone features while riding. The system connects to accessory power for convenience and can be installed and operated from a tank bag. A new cable harness keeps connection points accessible when adding or changing devices.
Garmin® zūmo® 500 or 600 series GPS units can directly connect to the system. An available BTA adapter receives audio from a bluetooth device and inputs it into the MC-200 controller. This offers a solution for riders with BMW systems and those with a combination of audio sources.
With fully integrated audio, riders can to listen to music, or something else, and talk to other riders at the same time. Wired intercom is full duplex for instant, hands free conversations at highway speeds. Firmware filtering reduces wind and an automatic volume adjustment responds to external conditions. Microphone levels and volume relationship between rider and passenger are also adjustable. Sound quality is full and dynamic, providing clear audio and voice, even for riders with some hearing issues.
Users can standardize volume of devices and adjust bass, treble, balance, loudness and other functions. Screen brightness is also adjustable with back lighting for the keypad when dimmed. The MC-200 display has a powder coated, machined aluminum case with a silicon keypad and gasket and is rainproof for outdoor use.
The MC-200 is packaged as a complete system with custom headsets, microphones (both Boom and Fixed types) and all cables for connecting audio devices and two-way radios. Extension cables, if needed, and an external PTT button for radio activation are also included. Adapters are available for specialty radios, bluetooth devices, and for earphone use in place of headsets.
MSRP is 695.00 for a 2-Rider system and 645.00 for a single rider. The MC-200 system is available now.
About MotoChello
MotoChello began when a multi-patented electronic engineer with a background in audio and theater systems and a long time rider, decided to put his expertise to work and develop the integrated motorcycle stereo system he wanted for himself. The result of his professionalism is evident in MotoChello products, which are all designed, assembled and tested in the US.
For additional information, please contact MotoChello at 775-782-2203 or http://www.motochello.com.