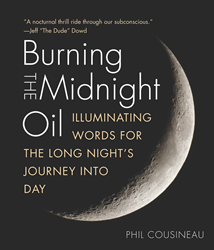 Cousineau's love affair with words is contagious and you are likely to end up lovesick with words yourself.—Huston Smith
(PRWEB) August 09, 2014
In Burning the Midnight Oil, word-wrangler extraordinaire Phil Cousineau has gathered an eclectic and electric collection of soulful poems and prose from great thinkers throughout the ages. Whether beguiling listeners with glorious poetry or consoling them with prayers from fellow restless souls, Cousineau can relieve any insomniac's unease.
From St. John of the Cross to Annie Dillard, Beethoven to The Song of Songs, this refreshingly insightful anthology soothes and inspires all who struggle through the dark of the night. These "night thoughts" vividly illustrate Alfred North Whitehead's liberating description of "what we do without solitude" and also evoke Henry David Thoreau's reverie, "Our truest life is when we are in dreams awake." The night writers in Cousineau's vesperal collection range from saints, poets, and shamen to astronomers and naturalists, and tells of ancient tales and shining passages from the most brilliant (albeit insomniac) writers of today.
Meet Phil in person at Unity Spiritual Center of San Francisco on Sunday, August 10 at 11am.
About the Author
Phil Cousineau is an award-winning writer and filmmaker, teacher and editor, independent scholar and travel leader, storyteller and TV host. His fascination with art, literature, and the history of culture has taken him from Michigan to Marrakesh, Iceland to the Amazon, in a worldwide search for what the ancients called the "soul of the world." He lives in San Francisco, California.
About Viva Editions
Viva Editions are books that inform, enlighten, and entertain. The very name, "Viva!", is celebratory. And while Viva Editions is a line of books that are as fun as they are informational, the intention behind Viva is very serious—these are books that are truly helpful and intended to enhance people's lives.