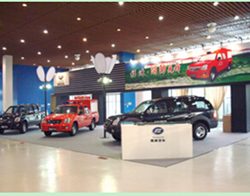 (PRWEB) August 09, 2014
Recently, Baiyun International Conference Center has witnessed a China International Special Auto Show, a great modified and commercial vehicles exposition. Guangdong FODAY Automobile Co., Ltd. was invited to attend the event.
The company's Ultimate Explorer Ⅲ, Lion Pickup and Firefighting Pickup, as key exhibition models, have drawn attention of thousands of customers. The brand new Firefighting Pickup is red. The beautiful appearance makes it look prominent in the exhibition room; this is why it attracted countless eyeballs. According to the related consultant, Firefighting Pickup is developed by FODAY Auto and the Nanhai Government in Foshan, China. These two reliable companies want to offer more protection for the local residents. The excellent item has been put into use in some rural town areas. Its great value and high-cost performance has won unanimous praise.
During the Guangzhou Special Auto Show, FODAY, the Firefighting Pickup Pioneer, received a lot of public awareness. The company insists that improving the livelihood of the charity is of great significance.
Guangdong FODAY Automobile Co.,LTD
http://www.fodayauto.com
FODAY Auto Wechat no: fodayauto
Email: fodayglobal(at)163(dot)com