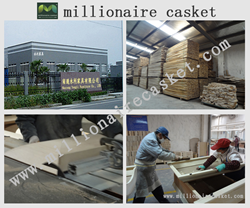 (PRWEB) August 09, 2014
MillionaireCasket.com, a renowned supplier in the casket industry, has recently released its latest collection of gauge metal caskets, and announced a big promotion. Now, all these new gauge metal caskets are available at discounted prices, up to 38% off. MillionaireCasket.com is a reliable supplier in the global market; it provides great caskets for its current and prospective clients.
MillionaireCasket.com is selling various kinds of high quality caskets on its website. The firm has specialized in designing and manufacturing caskets for a long time; this is why it has a good knowledge of customer needs and product quality.
The development manager for the company says, "Besides gauge metal caskets, we are also offering poplar caskets, Pine Caskets, oversize caskets, mahogany caskets, cherry caskets and many other items. Now, all our products are available at discounted prices. The special offer will last for a limited time. Those who are interested in our cheap caskets should visit our website and place an order as soon as possible."
"On our website, clients don't need to pay much money to get high quality caskets. All our items are excellent, because they are made with grade-A materials by qualified workers. As far as I am concerned, all our clients are pleased with what they get," he adds.
About MillionaireCasket.com
MillionaireCasket.com is a leading casket company that focuses on the business of casket wholesale. This company offers an exquisitely crafted line of all kinds of metal caskets, solid wood caskets, veneer caskets, cremation caskets, rental caskets, orthodox caskets, infant or over-sized caskets and European style coffins. The standard quality control policy is strictly applied here, and a third party quality assurance is also available.
More details can be found at http://www.millionairecasket.com/77-18-gauge-metal-caskets.