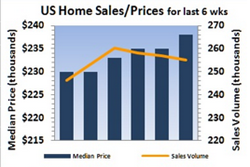 Median home sale prices at $238,000 have continued to perform well this year, climbing 1.3% week-over-week.
Chicago, IL (PRWEB) August 09, 2014
Lenders like Peoples Home Equity were disappointed to see weekly home sales decline for the third consecutive week. However median home sales prices increased fittingly, there remains an obvious lack of inventory.
Thursday, August 7ths "National Home Sales Snapshot" released by DQnews.com this week showed that week over week home sales f 255,136 fell by -0.7%. Sales are now -2.3% lower than August 2013. Just recently the gap between 2014/2013 sales was narrower at just -1.3% in July. Market critics have long anticipated a lower peak in weekly home sales this year versus 2013; however Peoples Home Equity has kept up its faith. The lender believes this year has been much better than critics expected and there is still room for a surprise late August/September surge in home sales.
Median home sale prices at $238,000 have continued to perform well this year, climbing 1.3% week-over-week. This weekly gain was pleasing given that sale prices were unchanged just 2 weeks ago. Sale prices are now up 3.9% year-over-year and they sit 25.3% higher than 3 years ago. Peoples Home Equity believes that the market will not see such a large drop in sale prices come fall/winter with unemployment as low as it is now and mortgage rates relatively lower than a year ago. The lender is of the opinion that any lack of home sales is only going to help prop up home prices further. Demand for homes is high, just lending standards have tightened. Americans are in a process of rebuilding/building their credit to apply for a mortgage. Loan officers understand these market conditions and help their clients find any possible avenue to comfortably afford a home loan for a property purchase. If unsure whether or not one may be able to afford a home loan, visit Peoples Home Equity calculator page which gives a preliminary "how much can I borrow?" calculation.
If interested in applying for a home loan, consider speaking to a Peoples Home Equity loan officer today at: 262-563-4026.