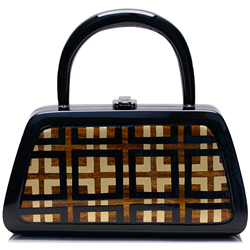 San Jose, CA (PRWEB) August 11, 2014
Handbag Culture will be showing their new artisanal handbag designs from their Fall/Holiday 2014 collection at the NY Now show at Pier 94 this month.
The latest handbag designs include:
Animal Patterns, perfect for autumn: fashionable wood bags, with supple leather handles and custom gunmetal locks. Available in lustrous black with either a hand-painted black and white zebra pattern or black, gold and natural wood leopard pattern at the top. Very elegant.
New selection of Natural Fiber medium-size Kimberly bags made from Buntal: a sophisticated checkered pattern of black and ivory, or red and black, as well as a special edition of green and red for the holidays. Practical and chic.
New Convertible Clutches, reminiscent of lustrous tropical fans, with a detachable chain strap, in textured black with either red, ivory, purple or fuchsia. Casual and sophisticated at the same time.
Musical Instrument designs. Handbag Culture's Guitar Bag (fashioned from wood) has proved so popular with symphony, opera, and museum lovers that a Violin Clutch and a Piano Handbag have been added to the collection.
While this show is strictly for trade buyers, retail clients will be able to purchase these and other new offerings at select stores or online in October in time for the holidays.
About Handbag Culture
The creative forces behind Handbag Culture are sisters Agnes and Chona, third generation fashion entrepreneurs. Based in Manila, Philippines, Chona and another sister Ria oversee the production side, working closely with local artisans from design to finish. California-based Agnes handles product marketing and distribution in the US and Canada. Scott, Agnes' husband, handles operations, website and tech functions, logistics and planning for tradeshows.
The sisters see Handbag Culture as a way to honor their late mother by continuing her creative work and mission to generate jobs, share knowledge, help artisans grow their business and provide a better life for their families, and, in the process, create absolutely beautiful handbags for discerning clients.
Handbag Culture is available through the company's website and at specialty boutiques, resorts, hotels and spas, art galleries and museums across the country.
Show Details:
NY Now
PIER 94 - New York's Newest – Booth # 11012
August 16-19, 2014
(855) 841-8400